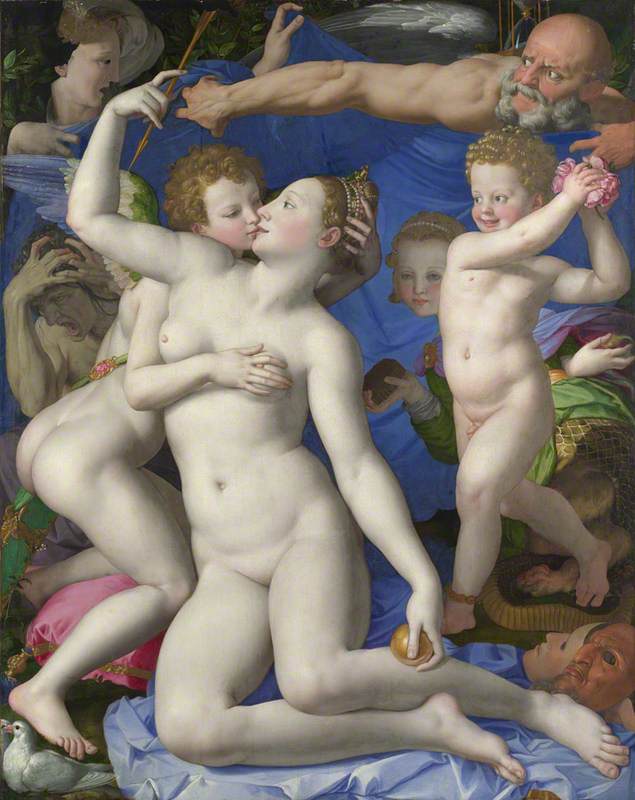 Photo credit: The National Gallery, London
(b Monticelli, nr. Florence, 17 Nov. 1503; d Florence, 23 Nov. 1572). Florentine Mannerist painter, the pupil of Pontormo, who virtually adopted him as a son and introduced his portrait as a child into his painting Joseph in Egypt (c.1518, NG, London). The origin of Bronzino's nickname (literally 'bronze-coloured') is uncertain, but possibly derived from his having a dark complexion. He was deeply attached to Pontormo and his style was heavily indebted to his master (in paintings of c.1530 it is sometimes difficult to distinguish the hand of one from the other). However, Bronzino lacked the emotional intensity that was such a characteristic of Pontormo's work, his colouring and brushwork were typically harder, and he excelled as a portraitist rather than a religious painter.
Read more
In 1539 he first worked for Duke Cosimo I de' Medici and he spent most of the rest of his career in his service, becoming the leading painter in Florence and creating an unforgettable array of images of his patron's family and courtiers—immaculately polished works that convey the splendour and formality of the sophisticated world in which they lived. Bronzino was also a poet, and his most personal portraits are perhaps those of other literary figures (Laura Battiferri, c.1560, Palazzo Vecchio, Florence). With few exceptions he was less successful as a religious painter, tending towards empty, elegant posturing, as in the Martyrdom of St Lawrence (1569, S. Lorenzo, Florence), in which almost every one of the extraordinarily contorted poses can be traced back to Michelangelo, whom Bronzino idolized, or to Raphael. It is the type of work that got Mannerism a bad name and has been described as a 'fusion of ballet and Turkish bath'. Late in life, Bronzino (like Ammanati) seems to have had a crisis of conscience about the use of naked figures in religious works, thinking that they tended to inspire lewd thoughts rather than holy ones, and his skill with the nude was certainly better deployed in the celebrated Allegory with Venus and Cupid (c.1545, NG, London), which conveys a feeling of icy eroticism under the pretext of a moralizing allegory (one of the subsidiary figures has recently been interpreted as symbolizing the effects of syphilis). His other major works include the design of a series of tapestries on the story of Joseph (1545–55) for the Palazzo Vecchio. He was a much-respected figure who took a prominent part in the activities of the Accademia del Disegno (see academy), of which he was a founder member in 1563. His pupils included Alessandro Allori, who—in a curious mirroring of his own early career—was also his adopted son.
Text source: The Oxford Dictionary of Art and Artists (Oxford University Press)