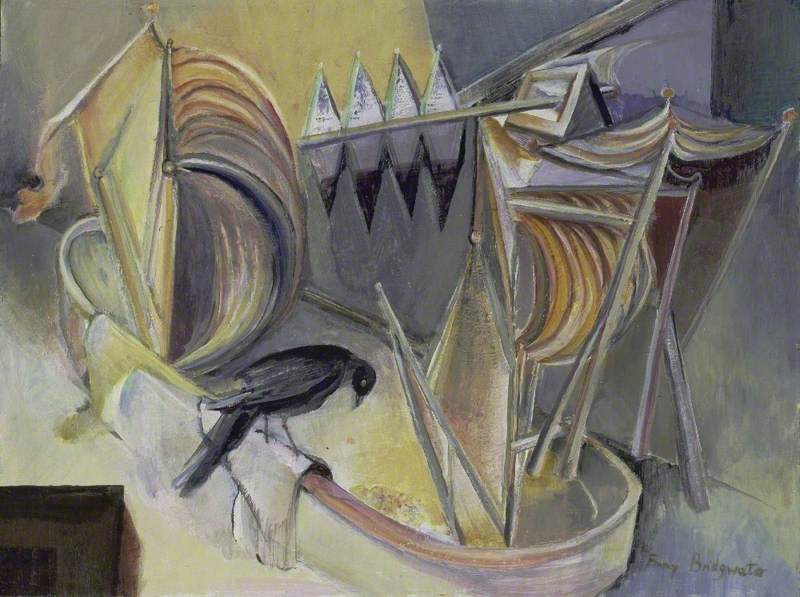 © the artist's estate. Photo credit: Birmingham Museums Trust
Surrealist painter, draughtsman and, from the 1970s, collagist, born in Edgbaston, Birmingham. She studied art there, in Oxford and London; Bernard Fleetwood-Walker taught her at Birmingham School of Art, Iain Macnab at Grosvenor School of Art. When in 1936 she saw the International Surrealist Exhibition in London this shaped the future course of her work, and soon after this she joined the Birmingham Group of Surrealists and the Surrealist group in England in 1940. Became a member of the LG and lived in London for periods. Held a first solo show at Jack Bilbo's Modern Art Gallery in 1942. During the 1940s she contributed to several international Surrealist publications, then in 1947 was invited by André Breton to the Galerie Maeght international Surrealist show in Paris where she signed the English group's Declaration.
Read more
After some years of neglect, when she was unable to paint because of family responsibilities, interest was revived in Bridgwater's work when she was included in the Hamet Gallery's Surrealist show in 1971, as she was in several further reviews in the 1980s. Blond Fine Art gave her a solo show in 1990. Bridgwater was a notable practitioner of Automatism, designed to liberate the imagination, as theorised by Breton. She left much unpublished poetry which also employed her powerful visionary imagination. Lived just outside Birmingham.
Text source: 'Artists in Britain Since 1945' by David Buckman (Art Dictionaries Ltd, part of Sansom & Company)