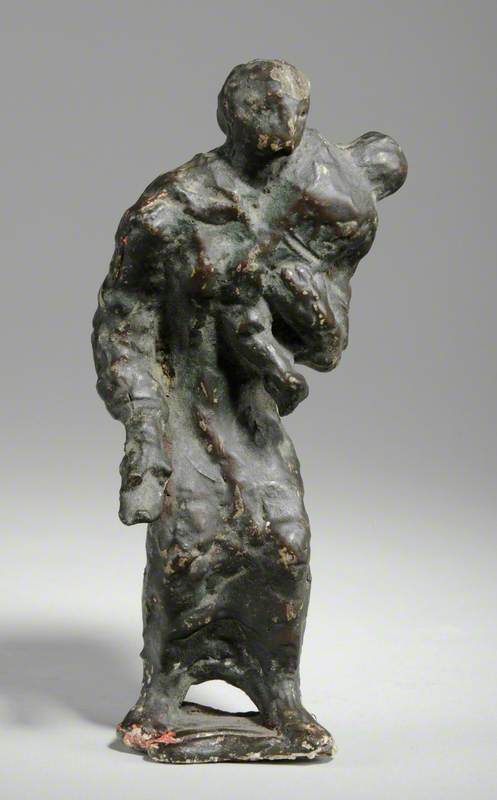 © the artist's estate. Photo credit: Leeds Museums and Galleries
Sculptor and teacher, working in fibreglass, plastics, concrete, bronze and ciment fondu. He was born in Felixstowe, Suffolk, studied at Colchester School of Art with Barry Hart and Edward J Morss, later at Royal College of Art, 1947–9, with Frank Dobson. Bridgeman won the Otto Beit sculpture award in 1947. After working as a letter-carver for Misha Black's Design Research Unit in 1951, and contributing big panels to the Dome of Discovery at the Festival of Britain, he was appointed head of sculpture at Carlisle College of Art in 1951. He became head of Birmingham Polytechnic school of sculpture, 1956–81, succeeding William Bloye. Bridgeman's idiosyncratic and democratic method of running a sculpture school inspired loyalty from his students, who refused to join the widespread revolt of the late 1960s at such centres as Hornsey College of Art.
Read more
His own work, which established a reputation mainly outside the London commercial gallery system, was deeply influenced by his experiences during World War II as a conscientious objector, rescuing bombed civilians. Bridgeman was made a fellow of RBS in 1960 and was a member of RBSA. His commissions included Madonna Dolorosa, for Coventry Cathedral; a Group of Warriors, for St Catherine's College, Cambridge; sculptural decorations for the 1951 Festival of Britain Dome of Discovery; and Cosmic Energy, an abstract panel for Aston University, Birmingham. He showed with RA; Roland, Browse & Delbanco; public galleries in Birmingham and Liverpool; and at Anthony Hepworth Fine Art, Bath. Lived in Leamington, Warwickshire.
Text source: 'Artists in Britain Since 1945' by David Buckman (Art Dictionaries Ltd, part of Sansom & Company)