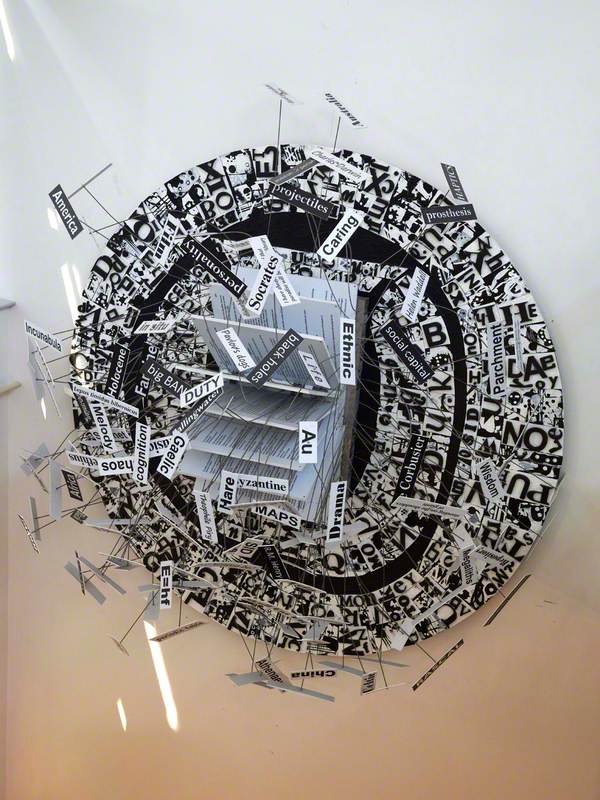 © the artist. Photo credit: Queen's University Belfast
Artist, designer and lecturer, born in Bury, Lancashire, who attended Bolton College of Art, 1969–72; gained an honours degree in textiles at Manchester Polytechnic, 1972–5; and his master's degree in textiles at Birmingham Polytechnic, 1975–6. In 1977 he established a studio in Bedfordshire, where he settled at Sandy, and was largely concerned with the construction of individual textiles/mixed-media works. Brennand-Wood was from 1977 associated with Goldsmiths' College as a part-time lecturer, being senior lecturer, 1983–9. Other teaching posts included University of Ulster, Royal College of Art, Glasgow School of Art, Middlesex and Trent Polytechnics and elsewhere, and he lectured extensively overseas. He was on many committees, notably for the Crafts Council and Eastern Arts Board, and held extensive British and overseas residencies.
Read more
Among awards received were medallist, Munich Exempla Exhibition, 1980; British Council Award and Travel Grant and a Major Award, Visual Arts/Crafts Board of the Australia Council, all 1988; and Distinguished Visiting Fellow, British Council, Kyoto City University, Japan, 1990–1. He was curator for the Japanese Fibre Exhibition Restless Shadows, which toured the United Kingdom, 1991–2. Commissions included Law Courts, Ilkeston Council, 1975–6; Cheshire County Council, 1980–2; LRC International, 1987; and in 1989 Automobile Association, Basingstoke, and Robin Gibson/St Stephen's Cathedral, Brisbane, Australia. Brennand-Wood took part in numerous group shows, solo exhibitions latterly including Galerie RA Amsterdam, Netherlands, and Gallery/Gallery, Kyoto, Japan, both 1990, and Canberra Institute of Arts, Australia, 1991. Retrospective, Piece Hall, Halifax, 1999. Victoria & Albert Museum, Crafts Council, National Museum of Modern Art, Kyoto, and many other local authority, overseas public gallery and corporate collections hold examples, including Conoco in Warwick; its work, Overlays, was made of recycled books and tea tins.
Text source: 'Artists in Britain Since 1945' by David Buckman (Art Dictionaries Ltd, part of Sansom & Company)