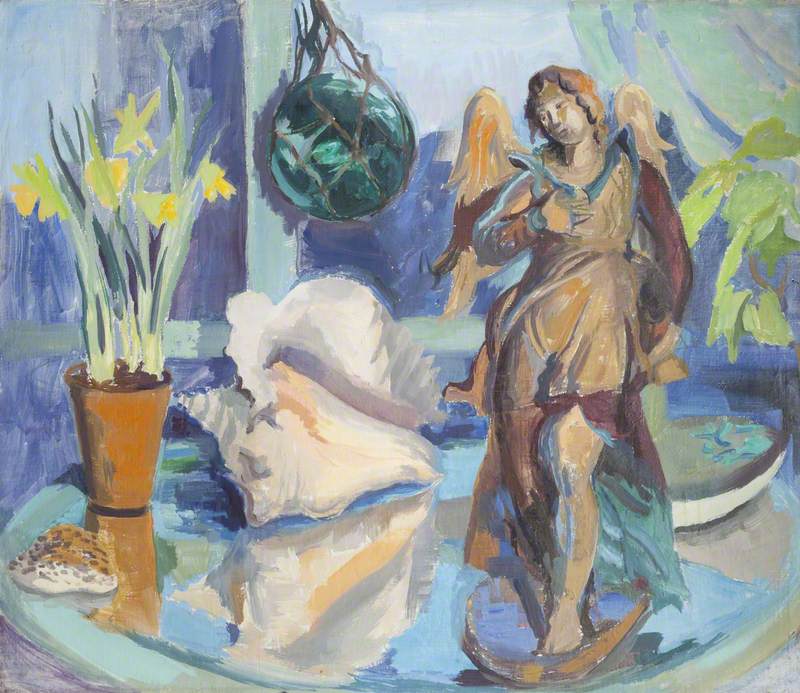 © the artist's estate. Photo credit: Grundy Art Gallery
Painter, illustrator, muralist and collector, born in Norwood, London. She was married for several years to the painter John Cooper, until the marriage was dissolved (early work sometimes signed Phyllis M(ary) Cooper), their daughter being the artist Philippa Cooper, then married Eric Phillips. Her father was William de Bray, who had been attaché to Maria Fyodorovna, mother of the murdered Tsar Nicholas II. As a child she wanted to be an artist and claimed to be the youngest scholarship student at the Slade School of Fine Art when she joined it, was a favourite of Henry Tonks and was a certificate, prize and diploma winner, attending 1927–31. In the mid-1920s Cooper spearheaded formation of the East London Group of painters with which Phyllis Bray was closely involved.
Read more
Her connection with the East End was strengthened when she completed three large murals for the People's Palace in the Mile End Road. For over 40 years helped the mural painter Hans Feibusch, working in many churches around Britain. Bray joined LG in 1934, showing with it regularly, also at Leicester Galleries, Wildenstein, Drian Gallery and Mignon Gallery, Bath. She also did a large volume of publicity, including work for Shell, the John Lewis Partnership and London Transport; her book illustrations included Alison Uttley's A Traveller in Time, 1939, Jo Manton's The Story of Titania and Oberon, 1945, and Rhoda Power's Here and There Stories, 1953. In the 1950s and 1960s Bray collected medieval and Renaissance jewellery for modest sums; the Phyllis Phillips collection was sold at Christie's in 1989 for £576,000. Parkinson's Disease latterly prevented her from painting, and she died in Hampstead, north London. Memorial show at Collyer-Bristow, 1998, with a successful studio sale at Duncan Campbell Fine Art, 2005. The Walker Art Gallery in Liverpool, Blackpool Art Gallery, Contemporary Art Society and Department of the Environment acquired Bray's work.
Text source: 'Artists in Britain Since 1945' by David Buckman (Art Dictionaries Ltd, part of Sansom & Company)