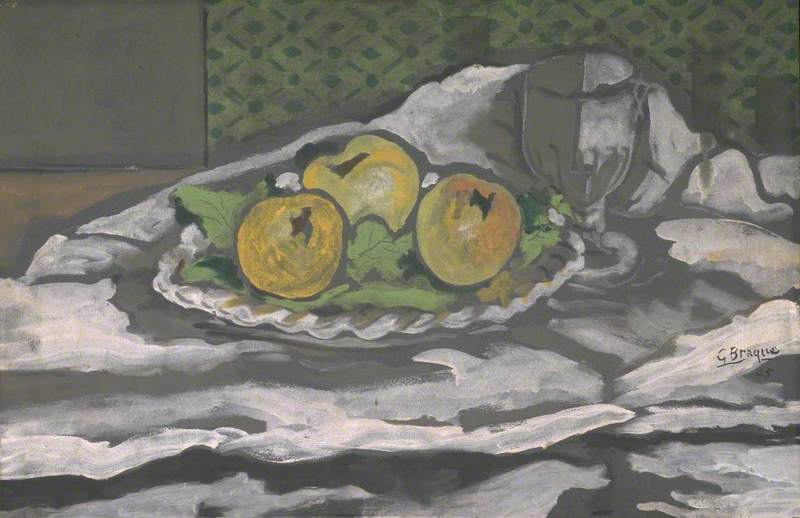 © ADAGP, Paris and DACS, London 2022. Photo credit: Tate
(b Argenteuil, 13 May 1882; d Paris, 31 Aug. 1963). French painter, graphic artist, and designer. Initially he followed his father's trade of house painter, but in 1902–4 he took lessons at various art schools in Paris, including briefly the École des Beaux-Arts. Through his friendship with his fellow students Dufy and Friesz, he was drawn into the circle of the Fauves, and in 1905–7 he painted in their brightly coloured, impulsive manner. In 1907, however, two key events completely changed the direction of his work: first, he was immensely impressed by the Cézanne memorial exhibition at the Salon d'Automne; and secondly, he met Picasso, in whose studio he saw Les Demoiselles d'Avignon. Although he was initially disconcerted by it, he soon began experimenting with the dislocation and fragmentation of form it had introduced, and the two men worked in close association until the outbreak of the First World War, jointly creating Cubism.
Read more
At times it is difficult to tell their work apart, but John Golding (Braque, 1966) senses some fundamental differences of outlook: 'Picasso's approach was predominantly linear and sculptural; it was he who formulated the concept of "simultaneous vision"—that is to say, the concept of combining different viewpoints of a subject into a single, coherent image. Braque's approach was more painterly, more poetic; significantly, of all the major Cubist painters, only he retained an interest in the evocative properties of light. And he was the technician who through patient research was able to solve so many of the pictorial problems which arose in the creation of this supremely complex and sophisticated style.'In 1914 Braque enlisted in the French army and was twice decorated for bravery before being seriously wounded in the head in 1915 and demobilized in 1916. After the war his work diverged sharply from that of Picasso. Whereas Picasso went on experimenting restlessly, Braque's painting became a series of sophisticated variations on the heritage of his pre-war years. His style became much less angular, tending towards graceful curves. He used subtle muted colours and sometimes mixed sand with his paint to produce a textured effect. Still life and interiors remained his favourite subjects, and many critics regard his Studio series, begun in 1947, as the summit of his achievement. From the 1930s his reputation had become international, and in his later years he accumulated an impressive list of honours, including the main prize for painting at the 1948 Venice Biennale. The final accolade was a state funeral—an occasion that seemed at odds with his life of unassuming dedication to his art. In addition to the type of paintings for which he is best known, Braque also did much book illustration, designed stage sets and costumes, and carried out some decorative work, notably the ceiling of the Etruscan Gallery in the Louvre, 1952–3.
Text source: The Oxford Dictionary of Art and Artists (Oxford University Press)