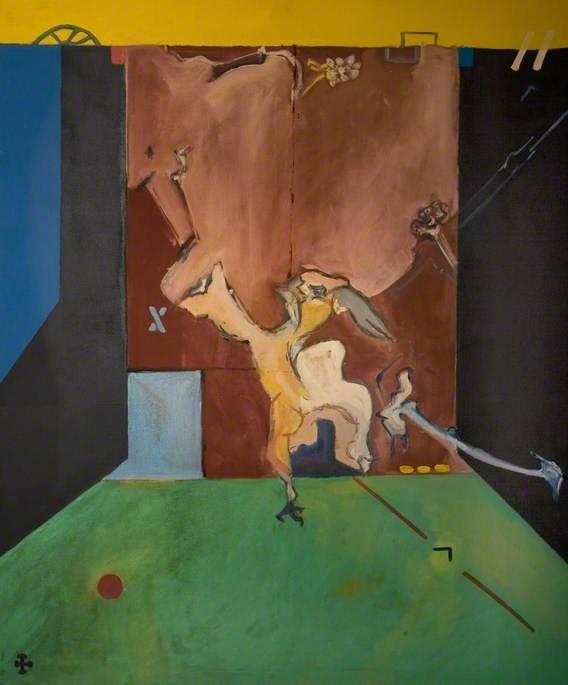 © the artist. Photo credit: Herbert Art Gallery & Museum
Winston Branch studied art at The Slade School of Fine Art, University College London, UK, and at The British School at Rome, Italy. He was a professor of art at the University of California (Berkeley, CA) and Kansas State University (Manhattan, KS) and also taught at The Slade, Chelsea Art School, Kingston Art School, and Goldsmith's, all in London.
Read more
Recognized from his earliest student days at The Slade School as having exceptional promise, Branch has received a succession of awards, including the Prix de Rome, a DAAD Fellowship to Berlin, a Guggenheim Fellowship to New York, and a sponsorship to Belize from the Organization of American States. He was also Artist-in-Residence at Fisk University (Nashville, Tennessee) and was given a Marquis Who's Who Lifetime Achievement Award in 2018. Branch received an Honorary Doctor of Arts from the University of Greenwich, London in 2020.

Born in St Lucia, West Indies, Branch has spent most of his career in some of the world's greatest centres for art, and his work forms part of the international avant-garde. In the San Francisco Bay Area, Branch's work has been exhibited at the Oakland Museum of California and the Alliance Francaise de San Francisco, and it is included in the permanent collection of the University of California Berkeley Art Museum. Other exhibitions of his work have been in the 11th and 23rd Bienal of Sao Paulo, Muséo de Arte Moderno (Sao Paulo, Brazil); the 4th Bienal de Pinture de Cuenca, Modern Art Museum (Cuenca, Ecuador); the 12th Biennale de Paris, Musee d'Art Moderne (Paris, France); and The John F. Kennedy Center for the Performing Arts (Washington DC).

Branch's paintings are represented in many public and private collections, including: The British Museum (London); The Brooklyn Museum (New York); the Arts Council of Great Britain, Sinclair Research Limited (UK); Victoria and Albert Museum (London); John Simon Guggenheim Memorial Foundation (New York), Sprint Headquarters (Overland, Kansas); Her Britannic Majesty's Military Government (Berlin, Germany); Mott-Warsh Collection (Flint, Michigan); St Louis Museum of Art (Missouri); Legion of Honor De Young Museum (San Francisco); Tate Britain (London).
Text source: the artist