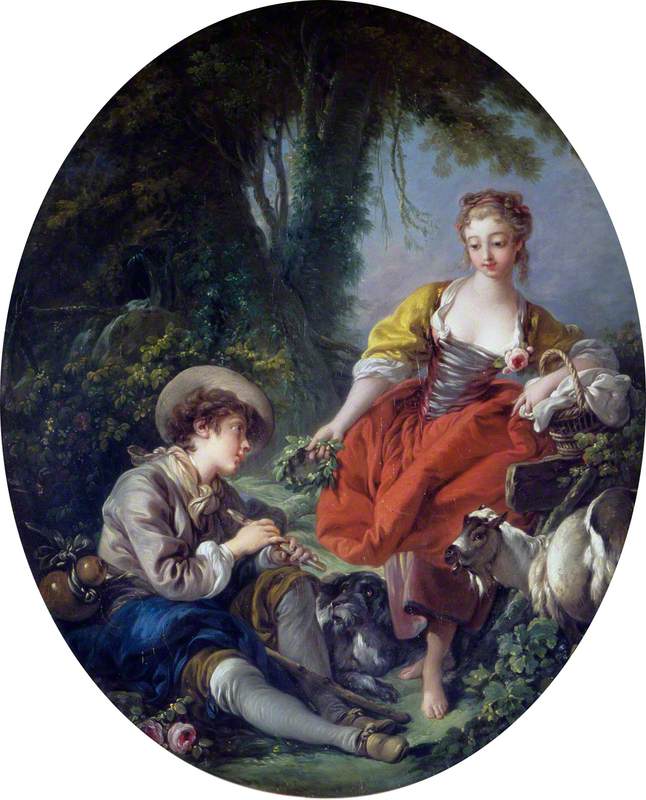 Photo credit: Victoria and Albert Museum, London
(b Paris, 29 Sept. 1703; d Paris, 30 May 1770). French Rococo painter, draughtsman, etcher, and designer, whose work best represents the frivolity and elegant superficiality of French court life in the middle of the 18th century. His father was a minor painter, who probably gave him his first training, and he briefly studied under François Lemoyne before winning the Prix de Rome in 1723. There were insufficient funds to pay for his scholarship and for the next few years he earned his living mainly as a printmaker, his work including etchings after drawings by Watteau. In 1728 he went to Rome at his own expense. He returned to Paris in 1731 and was soon launched on a varied, prolific, and enormously successful career, punctuated by a stream of honours.
Read more
In 1735 he received his first royal commission (for decorations at Versailles) and many others followed. At about the same time he took up tapestry design for the Beauvais factory, and he was a dominant figure in this field, becoming director of the Gobelins factory in 1755. In 1765 he was appointed both director of the Académie Royale (see academy) and first painter to the king. He was also the favourite artist of Louis XV's most famous mistress, Mme de Pompadour, to whom he gave lessons and whose portrait he painted several times (Wallace Coll., London; NG, Edinburgh). Boucher was immensely productive and highly versatile. He claimed that his output amounted to more than 1,000 paintings and 10,000 drawings, and his work was everywhere in fashionable society, for it ranged from colossal schemes of decoration for royal chateaux to designs for fans and slippers; it was reproduced in porcelain figures from the Sèvres and Vincennes factories and could be seen in his stage designs for the Paris Opéra. He painted many different kinds of pictures, including delightfully artificial landscapes (Landscape with Watermill, 1743, Bowes Mus., Barnard Castle). In his most characteristic paintings he turned the traditional mythological themes into wittily indecorous scènes galantes, and he painted female flesh with a delightfully healthy sensuality, as in the celebrated Reclining Girl (1751, Alte Pin., Munich), which probably represents Louise O'Murphy, one of Louis XV's mistresses. Towards the end of his career, as French taste changed in the direction of Neoclassicism, Boucher was attacked, notably by Diderot, for his stereotyped colouring and artificiality: he relied on his own repertory of motifs instead of painting from the life and objected to nature on the grounds that it was 'too green and badly lit'. Certainly his work often shows the effects of superficiality and overproduction, but at its best it has irresistible charm and great brilliance of execution, qualities he passed on to his most important pupil, Fragonard.
Text source: The Oxford Dictionary of Art and Artists (Oxford University Press)