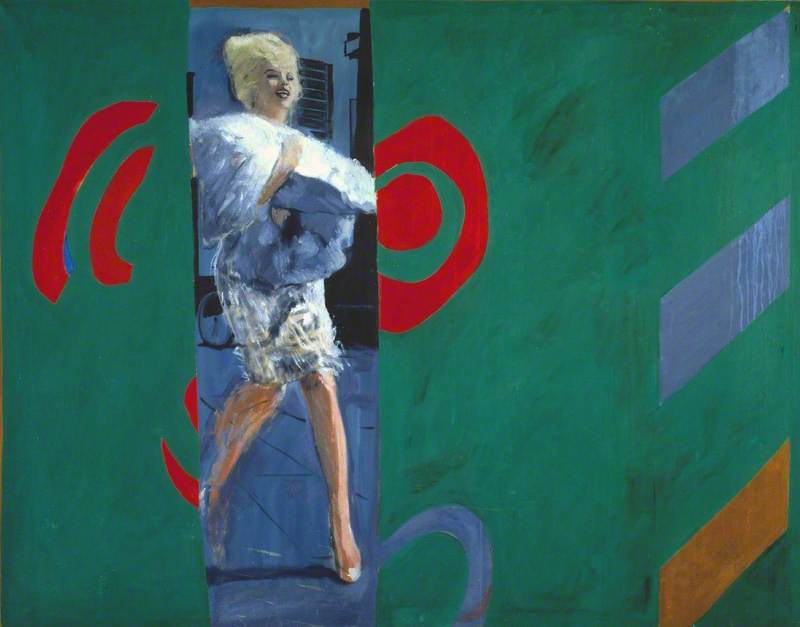 © Courtesy of the Pauline Boty Estate. Photo credit: Tate
British painter and actress, born in Croydon. She studied at Wimbledon School of Art and the *Royal College of Art, London, where she took the stained-glass course, although by that time this was frequently taken by those whose primary interest was painting. In 1962 she appeared alongside Peter *Blake and Derek *Boshier in Ken Russell's film Pop Goes the Easel, which alerted for the first time a wider public in Britain to the *Pop art phenomenon. Her early work consisted of collages more concerned with nostalgia than contemporary popular culture, but by the time she had her first solo exhibition at the Grabowski Gallery in 1963, her paintings reflected topical issues as filtered through the mass media. Scandal '63 (presumed lost) referred to the Christine Keeler affair by including a widely reproduced image of Keeler.
Read more
The affair, involving a prostitute, the cabinet minister John Profumo, and a Russian spy, was widely regarded as having exposed the corruption of the existing British establishment, so providing a catalyst for the social changes of which *Pop was a symptom. Boty's paintings have been interpreted as offering a *feminist perspective on pop culture. Her best-known painting, The Only Blonde in the World (1963, Tate), shows the film star Marilyn Monroe, who had died tragically the previous year, trapped in a semi-abstract pattern reminiscent of the paintings of Richard *Smith. Her paired paintings It's a Man's World (1963–5) contrast gender stereotypes. The males (including politicians and scientists) are associated with grandiose Baroque architecture, the women (all naked) with a luxuriant tropical beach. Boty died young from cancer and her paintings disappeared from view for many years but were rediscovered in the early 1990s. http://www.writing-room.com/NYSH.pdf A. Smith Now you see her (2002), biography of Pauline Boty.
Text source: A Dictionary of Modern and Contemporary Art (Oxford University Press)