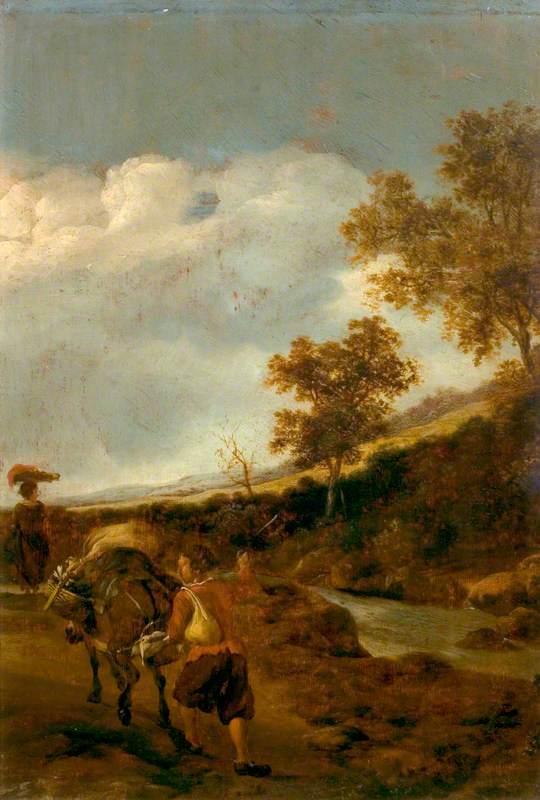 Photo credit: Victoria and Albert Museum, London
(b Utrecht, c.1615/20; bur. Utrecht, 9 Aug. 1652). Dutch painter, draughtsman, and etcher, with Nicolaes Berchem the most celebrated of the Italianate landscape painters. He probably studied in Utrecht with Bloemaert before going to Italy, where he stayed for about four years, c.1637–41. Both's output was large (in spite of his short life), but few of the more than 300 paintings attributed to him can be convincingly dated to his Italian sojourn. Nevertheless, the main influence on his work was Claude, whom he knew in Rome. His landscapes are typically peopled by peasants driving cattle or travellers gazing on Roman ruins in the light of the evening sun. Such contemporary scenes were an innovation, for the earlier Dutch painters of the Italian countryside had populated it with biblical or mythological figures.
Read more
They express the yearning of northerners for the light and idyllic life of the south, and proved immensely popular with collectors, not least in England, helping to shape ideas about Italy for two centuries. Jan's brother Andries (c.1612–41) moved to Italy a few years before him. They lived together in Rome, 1639–41, and are said to have collaborated, but Andries is best known for paintings and drawings of lively peasant scenes that have little in common with Jan's idyllic landscapes. Andries was drowned in an accident in Venice.
Text source: The Oxford Dictionary of Art and Artists (Oxford University Press)