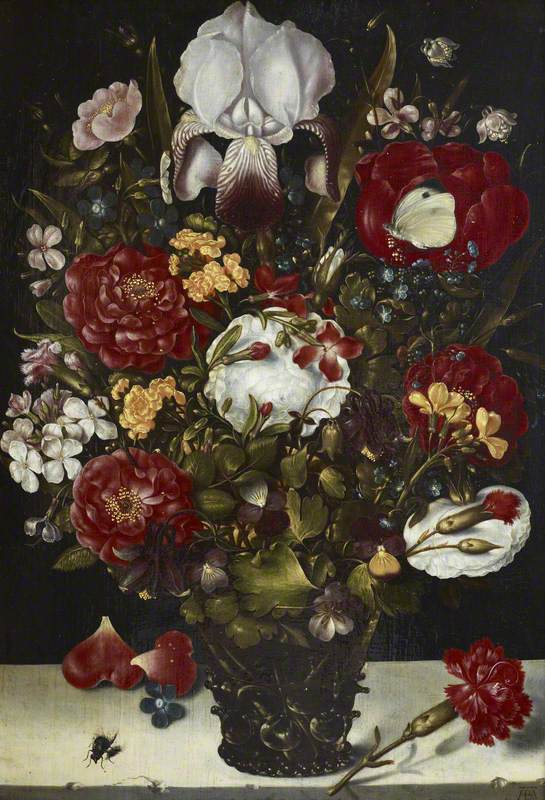 Photo credit: National Trust Images
(bapt. Antwerp, 18 Nov. 1573; d The Hague, 1621). Flemish flower and still-life painter, active mainly in the Netherlands (he is recorded in Middelburg from 1593 to 1613 and afterwards worked mainly in Utrecht). Although he spent the major part of his life in the Netherlands, Bosschaert's style was basically Flemish—similar to that of Jan Brueghel, with whom he ranks in quality and in historical status as one of the pioneers of flower painting as an independent genre.
Read more
He specialized in formally arranged bouquets, showing a rich variety of flowers from different seasons (they were painted from separate studies made at various times of year). His Vase of Flowers (c.1620, Mauritshuis, The Hague), one of the most reproduced of all flower pieces, is characteristic of his polished brushwork and beauty of colour. Bosschaert may fairly be said to have initiated the Dutch tradition of flower painting and his style was continued by his three sons, Ambrosius the Younger (1609–45), Abraham (c.1613–43), and Johannes (c.1610–after 1628), and also by his brother-in-law, Balthasar van der Ast.
Text source: The Oxford Dictionary of Art and Artists (Oxford University Press)