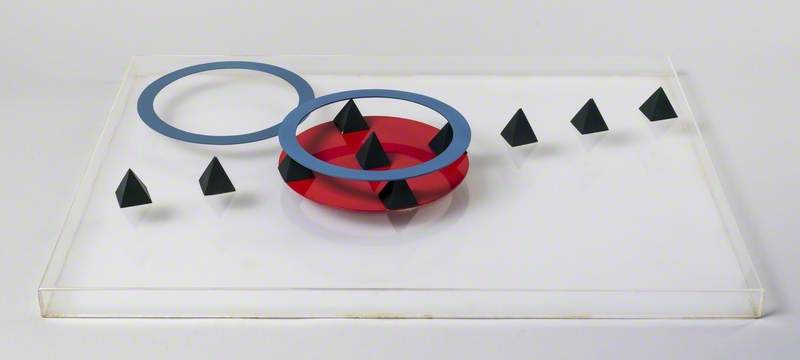 © Derek Boshier. All Rights Reserved, DACS 2022. Photo credit: Portsmouth Museums and Visitor Services
British painter, sculptor, designer, and experimental artist, born in Portsmouth. He studied at Yeovil School of Art, 1953–7, Guildford College of Art, 1957–9, and the *Royal College of Art, London, 1959–62. His contemporaries at the RCA included David *Hockney, Allen *Jones, R. B. *Kitaj, and Peter *Phillips, and like them Boshier is regarded as one of the leading British exponents of *Pop art. His work of the early 1960s was much concerned with the manipulative forces of advertising, treating the human figure in the same way as mass-produced goods and blending them together. One painting's title quotes Vance Packard's The Hidden Persuaders (1957), an influential study warning of the manipulative power of advertising. Others look critically at the space race and the relationship between Britain and the USA.
Read more
England's Glory (1961) shows the eponymous matchbox being invaded by the stars and stripes. However, although Boshier's interest in advertising later resurfaced in his work, his involvement in Pop art was short-lived. In 1962 he spent a year in India, and this introduced Hindu symbolism into his work; soon afterwards he began producing *Hard-Edge geometrical abstracts with shaped canvasses. These incorporated perspectival devices to create spatial illusion, to suggest the neon and billboards of the modern city. In 1966 he abandoned painting for sculpture in perspex and neon, then turned to photography, film, and *installation art. He took up painting again in 1979 and in the following year moved to Houston, Texas, as assistant professor of painting at the university. He now lives in Los Angeles.
Text source: A Dictionary of Modern and Contemporary Art (Oxford University Press)