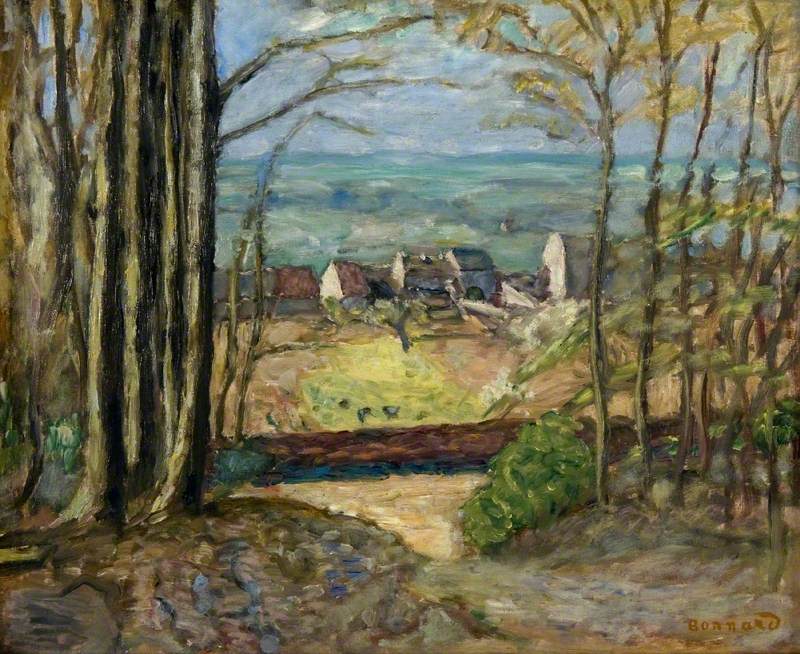 Photo credit: Glasgow Museums
(b Fontenay-aux-Roses, nr. Paris, 3 Oct. 1867; d Le Cannet, nr. Cannes, 23 Jan. 1947). French painter, lithographer, and designer. His father, an official in the War Ministry, insisted that he study law, but from 1888 he also attended classes at the École des Beaux-Arts and at the Académie Julian, where he met several young artists (including his lifelong friend Vuillard), who formed the Nabis. After doing military service, 1889–90, he abandoned law and became a full-time artist; his first one-man exhibition was at Durand-Ruel's gallery in 1896. At this time, as well as painting, he was producing posters and coloured lithographs, and designing for the stage: he worked on the original production of Alfred Jarry's Ubu-Roi (1896), considered the first work of the Theatre of the Absurd.
Read more
He prospered steadily in his career and his life was quiet and uneventful (although he travelled a good deal before the First World War). Like Vuillard, he is best known for peaceful domestic scenes to which the term Intimiste is applied. Bonnard generally painted on a larger scale than Vuillard, however, and with greater richness and splendour of colour. His favourite model was his wife, and some of his most characteristic pictures are those in which he depicted her in the bath (she had an obsession with personal cleanliness and spent much of her time in the bathroom). His other subjects included flowers and landscapes. He also did numerous self-portraits. The late ones show his desolation after the death of his wife in 1940, but in general his work radiates a sense of warmth and well-being. This quality and his lively broken brushwork make him one of the most distinguished upholders of the Impressionist tradition.
Text source: The Oxford Dictionary of Art and Artists (Oxford University Press)