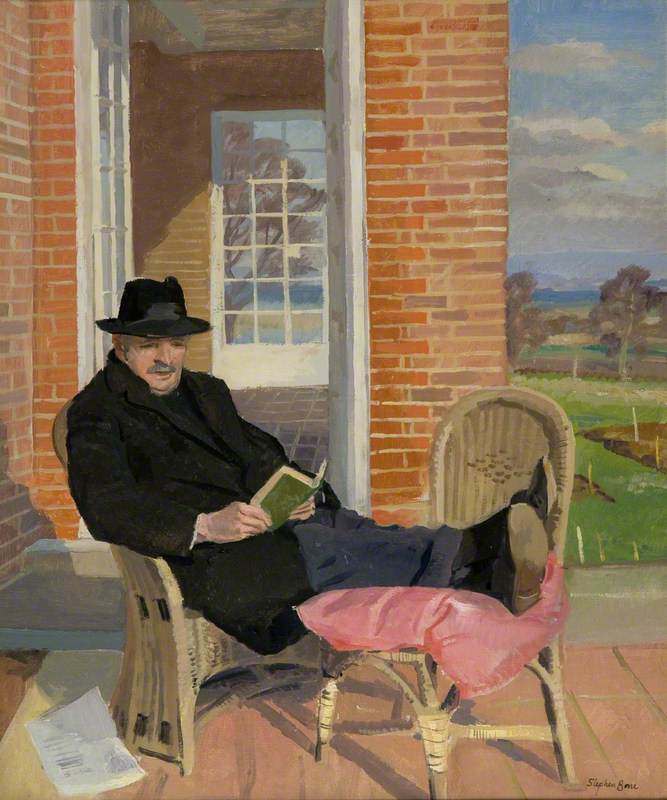 © estate of Stephen Bone. All rights reserved, DACS 2022. Photo credit: Dundee Art Galleries and Museums Collection (Dundee City Council)
Painter, wood engraver, illustrator, critic, broadcaster and writer. Born in Chiswick into a family of writers and artists. Stephen's father was the painter Sir Muirhead Bone and Stephen married the artist Mary Adshead. After Bedales School he studied at the Slade School of Fine Art, 1922–4. From 1920 began showing with NEAC; won a gold medal for wood engraving at the 1925 Paris International Exhibition; in 1926 shared a show with Robin Guthrie and Rodney Burn at the Goupil Gallery; and two years later painted a decoration for Piccadilly Circus underground station (eventually replaced by advertisements). Travelled extensively with his wife in the British Isles and on the continent and exhibited widely in the 1930s, including Fine Art Society, Lefevre Gallery and Redfern Gallery.
Read more
In the late 1930s was active in the AIA, helping German refugees to settle in England and find work. During World War II became an officer in camouflage operations in Leamington Spa, from 1943–5 serving as an Official War Artist attached to the Royal Navy. Bone's speciality was the small oil panel "snapshot". They brilliantly evoke the scenes of his wide travels and illustrate his book Albion: An Artist's Britain, published in 1939. After the war his pictures fell out of favour and he concentrated on his ability to communicate with words. Bone could be a spellbinder, with a prodigious memory for facts. He served as art critic for the Manchester Guardian in 1948; wrote articles for the Yorkshire Post and Glasgow Herald; broadcast on radio and television, in such programmes as The Critics and The Brains Trust; and wrote children's books, sometimes working with his wife. In 1957 was appointed director of Hornsey College of Art. The Tate Gallery holds his work. Retrospective Sally Hunter Fine Art, 1986. Lived in London.
Text source: 'Artists in Britain Since 1945' by David Buckman (Art Dictionaries Ltd, part of Sansom & Company)