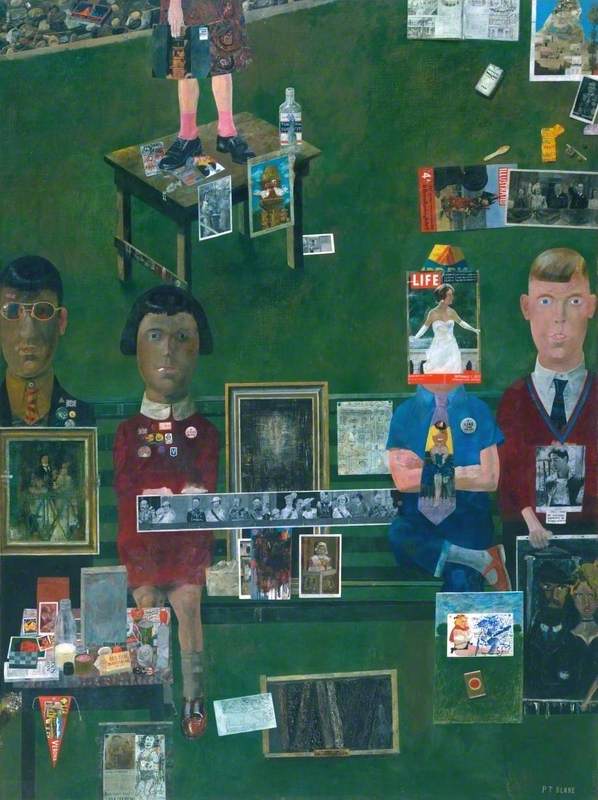 © Peter Blake. All rights reserved, DACS 2023. Photo credit: Tate
(b Dartford, Kent, 25 June 1932). British painter, printmaker, sculptor, and designer, a leading exponent of Pop art. His use of imagery from comics, pin-up magazines, consumer goods, and advertisements captures the flavour of the times in a manner that now evokes nostalgia for the 'swinging sixties', as was made clear during his enormously popular retrospective exhibition at the Tate Gallery, London, in 1983 (his most famous work is the cover design for the Beatles LP Sergeant Pepper's Lonely Hearts Club Band, 1967). The combination of sophistication and naivety typical of Blake's style is seen particularly clearly in his work as a member of the Brotherhood of Ruralists, a group of seven painters based in the West Country, of which Blake (then living near Bath) was one of the founders in 1975.
Read more
The members had several group exhibitions, took working holidays together, and shared a commission to design covers for the New Arden edition of Shakespeare's work, but they had common ideals rather than a common style, taking as their inspiration 'the spirit of the countryside'. A series of winsome fairy paintings are characteristic of this facet of Blake's work, and many critics found the work of the group as a whole insufferably twee—one newspaper review of a 1981 Ruralists exhibition was headed 'Tinkerbell lives'. The original Brotherhood last exhibited as a group at Blake's retrospective at the Tate in 1983. The other members were: Ann Arnold (b 1936) and her husband Graham Arnold (b 1932); the American-born Jann Haworth (b 1942), who was married to Blake, 1963–81; David Inshaw (b 1943); Annie Ovenden (b 1945) and her husband Graham Ovenden (b 1943). The Arnolds and the Ovendens still function as a group.
Text source: The Oxford Dictionary of Art and Artists (Oxford University Press)