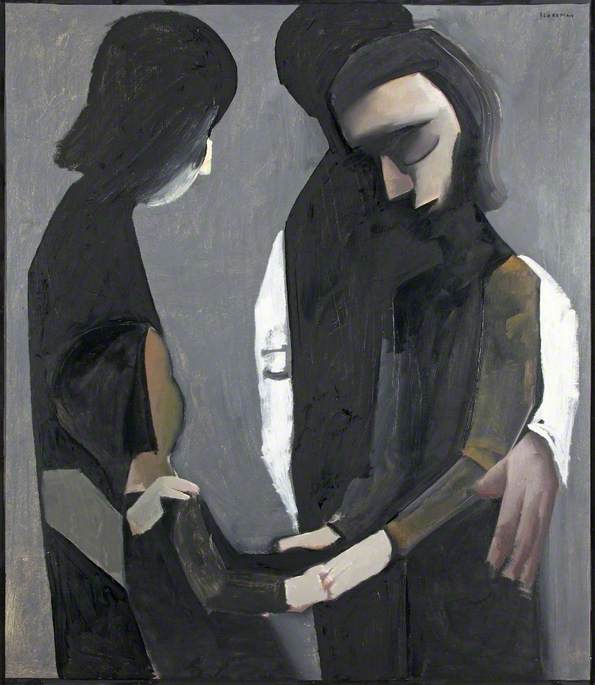 © DACS 2021. Photo credit: Swindon Museum and Art Gallery
Versatile and imaginative figurative artist and designer, in whose work themes such as the schoolgirl, family intimacies and blindness (his writer/poet wife until 1980 Barbara (Patterson) early received an invalid/blind pension) were important. He was born and eventually settled in Sydney, Australia, leaving school before his fourteenth birthday after an unsettled childhood. Worked as a copy boy on the Sun newspaper, 1942–5, attending evening classes at East Sydney Technical School; then gained a Sun art cadetship, 1946–7, having as his only formal painting training a few lessons with Hayward Veal at Meldrum School of Painting. Introduced to modern literature and art by the poet Lois Hunter, he left the Sun and began a wandering period of odd jobs, self-education and hard painting, in 1952 attending lithography classes run by technician Ben Crosskell at Melbourne Technical College.
Read more
Had a first solo show at Peter Bray Gallery, 1953, prompting critical interest. By 1958, Blackman's picture Alice – a Portrait had been accepted by the Musée d'Art Moderne, Paris. In 1959, Blackman became a founder-member of the Antipodean group, work being noticed by Sir Kenneth Clark; in 1960, he had a sell-out show at Johnstone Gallery, Brisbane, and won a Helena Rubinstein Travelling Scholarship; in 1961 sailing with his family to London, where his work was widely praised, helping to represent Australia at the Biennale des Jeunes at Musée d'Art Moderne. A promised retrospective at Whitechapel Gallery had to be replaced by an acclaimed show at Zwemmer Gallery, 1965, Blackman returning to Australia in 1966. London life was finally terminated in 1968 when a Leicester Galleries show disappointed. Back in Australia, with many forays abroad, notably to Paris, Blackman continued to enhance his reputation, notably in the theatre. In 1993, the National Gallery of Victoria held a retrospective. Victoria & Albert Museum and Australian collections hold examples.
Text source: 'Artists in Britain Since 1945' by David Buckman (Art Dictionaries Ltd, part of Sansom & Company)