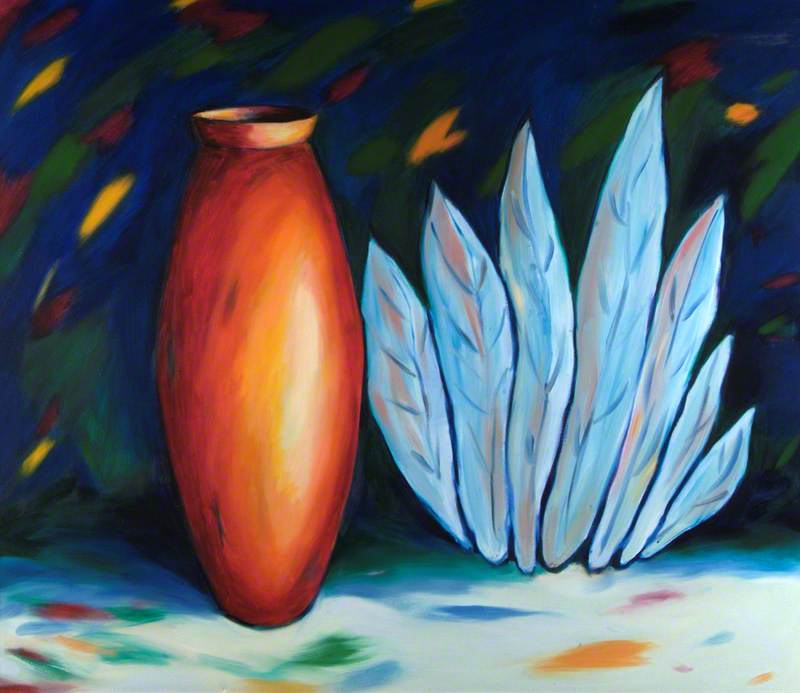 © the artist. Photo credit: Healing Arts, Isle of Wight NHS Trust
London-based painter who studied fine art at Goldsmiths' College. She was artist-in-residence at the National Gallery, 1986–7, and Camden Arts Centre, 1992. In that year she was included in Women's Art at New Hall, Cambridge, and in 2003 had a solo show at the London School of Hygiene and Tropical Medicine. Blackett wrote that her work was "concerned with generating new meaning through the juxtaposition of different images, both borrowed and invented. I am interested in our quest for knowledge of the world we inhabit…. The Wellcome Library for the History of Medicine has become one of my most valuable sources…. I borrow images from books on subjects as diverse as chemistry, cooking and witchcraft, which I adapt as I work, often combining them with images of my own invention.
Read more
" She had an "interest in illusion and in the difference between the surface appearance of things, what does or might lie beneath". The London School exhibition included pictures following on from a series of multiple-panel paintings, entitled Above, below, within, which Blackett made for the Adam Gallery in 1997. The British Council and other public collections hold her work.
Text source: 'Artists in Britain Since 1945' by David Buckman (Art Dictionaries Ltd, part of Sansom & Company)