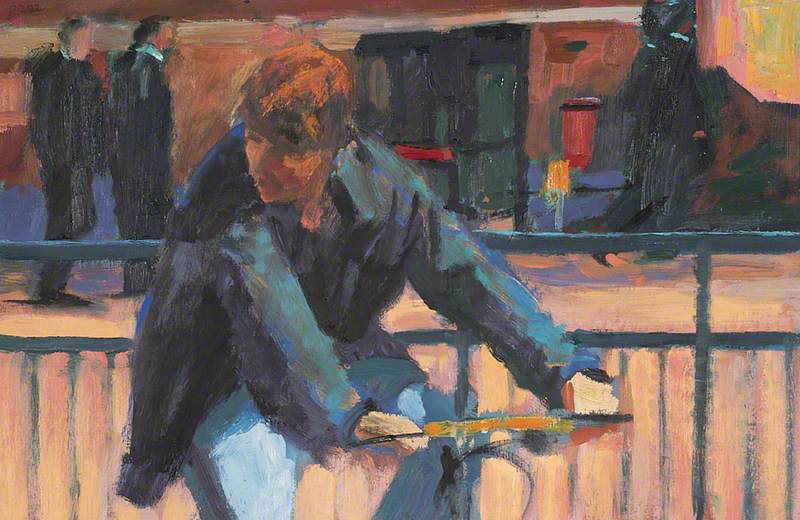 © the artist. Photo credit: Museum of London
Artist who as well as painting was involved in kinetics and light projects, collage and colour photography. He was born in Peterborough, Huntingdonshire, and studied at Royal College of Art, 1960–4. From an early stage he showed in mixed and held solo exhibitions internationally. Regarding group shows, in 1967 he was in Ornamentale Tendenzen, which toured West Germany; in 1971 in Jeux, Lumière et Animation, at Galerie Lacloche, in Paris, and in Play Orbit at ICA; in 1982 at Midland Group, Nottingham, Open Photography show; and in 1982–3 he was in Sainsbury's Images for Today, winning a Commendation Prize. Solo shows included Grabowski Gallery, 1965–7–9; Angela Flowers Gallery, 1981; Rochdale Art Gallery, and tour, 1983; Harlow Playhouse Gallery, Harlow, 1992; and in 1997 his Urban Mirror City Paintings, 1987–1997, was held at Royal National Theatre, revealing Bevan as a portrayer of the London landscape in rich colours.
Read more
Play, at the same venue in 2002, continued the city theme, with ordinary people doing ordinary things. Bevan was married to the sculptor Pat Thornton. They used part of their west London house as Thornton Bevan Fine Arts to show other artists' works.
Text source: 'Artists in Britain Since 1945' by David Buckman (Art Dictionaries Ltd, part of Sansom & Company)