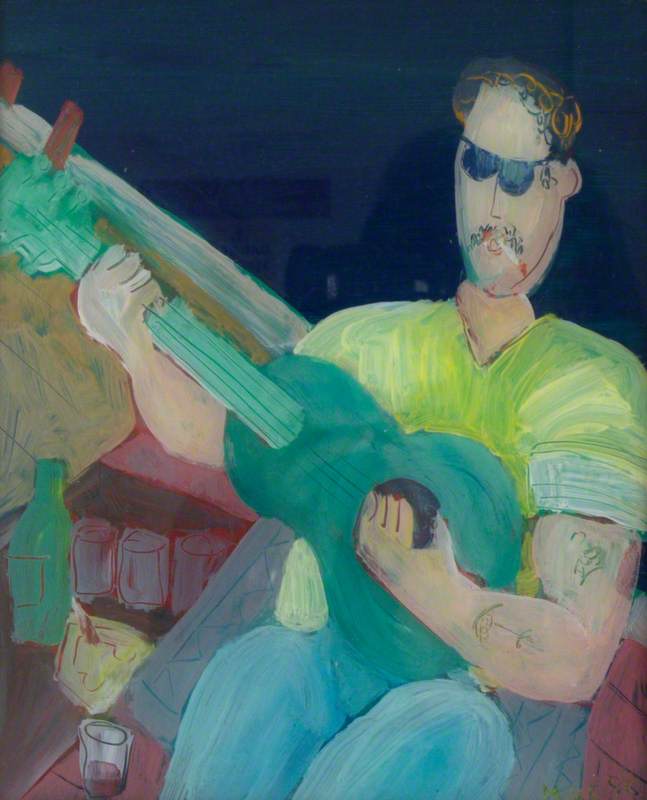 © the artist . Photo credit: Hampshire County Council's Contemporary Art Collection
Designer and artist, several of whose lyrical, circus-oriented acrylic-on-Perspex paintings were included in Vision 21 at Bonhams, Knightsbridge, in 2004. Becket was best known as a set and costume designer for fringe companies and ballet at the Royal Opera House and Birmingham Royal Ballet. In the theatre he worked with leading designers and artists, including John Craxton, David Hockney, Sidney Nolan, Victor Pasmore and John Piper before turning to his own paintings and themes. In these, he cast a wry eye over audiences, figures in the orchestra and backstage events. He had many mixed show appearances, including Elms Lesters Painting Rooms, from 1987; Royal Opera House Foyer, 1994; Heifer Gallery from 1995; Beatrice Royal Gallery, Eastleigh, from 1995, when he was awarded first prize in The Sea Exhibition; Harbour Lights Gallery, Southampton, 1997; and Belgrave Gallery St Ives, from 1999.
Read more
Beatrice Royal gave him one of his many solo shows in 1998 and there were two at Piers Feetham Gallery and the Royal Opera House in 2002. Langton Street Gallery also showed Becket's work.
Text source: 'Artists in Britain Since 1945' by David Buckman (Art Dictionaries Ltd, part of Sansom & Company)