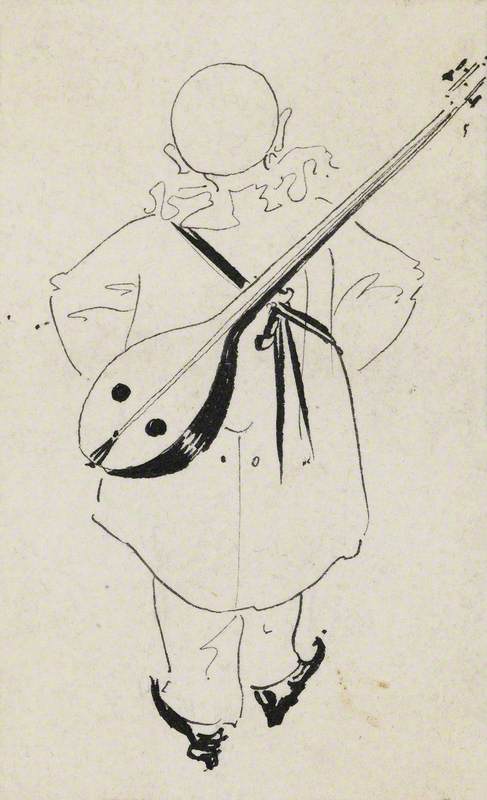 Photo credit: The Courtauld
(b Brighton, 21 Aug. 1872; d Menton, France, 16 Mar. 1898). English illustrator and writer. Beardsley had a talent for drawing from childhood and had almost no formal training in art (he attended evening classes at Westminster School of Art for a few months). However, he read voraciously and studied the art of the past and present, and his work drew on a variety of influences, including the sinuous line of Burne-Jones (who encouraged him) and the strong patterns of Japanese prints (see Ukiyo-e). In spite of these influences, his style is highly distinctive in the way he contrasts subtle use of line with bold masses of black and in his blending of grotesque humour with a sense of morbid depravity. He made a name for himself with illustrations for an edition of Malory's Morte d'Arthur (1893–4), and in 1894 he became notorious with the publication of his illustrations to the English version of Oscar Wilde's Salome and the appearance of the first issue of The Yellow Book, a quarterly periodical of which he was art editor.
Read more
The decadent nature of his work horrified many contemporaries and Wilde's arrest for homosexual offences in 1895 led to Beardsley's dismissal from The Yellow Book (even though he played no part in the scandal). In 1896 he worked for another short-lived periodical, The Savoy, which published extracts from his main work as a writer, the unfinished erotic novel Under the Hill (an unexpurgated edition, with his own pornographic illustrations, was privately published in 1907 under the title The Story of Venus and Tannhauser). Although he was only 25 when he died of tuberculosis, his output was large. He became one of the best-known artists of his day (he was satirized in Punch as 'Aubrey Weirdsley') and he ranks as a major figure of Aestheticism and of Art Nouveau.
Text source: The Oxford Dictionary of Art and Artists (Oxford University Press)