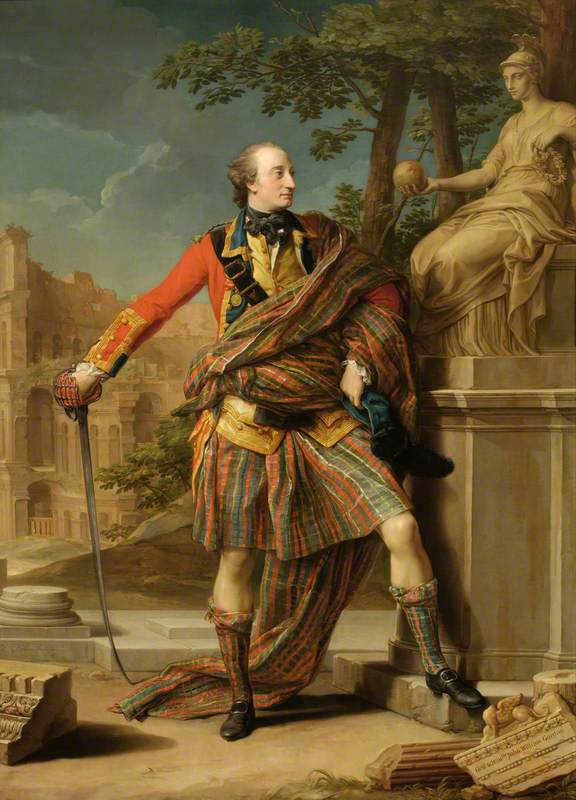 Photo credit: National Trust for Scotland, Fyvie Castle
(b Lucca, 25 Jan. 1708; d Rome, 4 Feb. 1787). Italian painter and draughtsman, the son of a distinguished goldsmith. He has been described as 'Italy's last Old Master' and he was certainly the last great Italian personality to dominate painting in Rome, where he spent virtually his whole career (he settled there in 1727). Initially he made his name with exquisite drawings of ancient statuary (which were much prized by antiquarians), then as a history painter, mainly of religious subjects. However, by the 1750s he was devoting most of his time to portraits and it is for these that he is principally famous. After Mengs left Rome for Madrid in 1761, Batoni's pre-eminence in this field was unchallenged, and he was particularly favoured by foreign (especially British) visitors making the Grand Tour, whom he often portrayed in an antique setting: one of his most celebrated works shows the sitter in spectacular Highland dress against a backdrop of the Colosseum (Colonel William Gordon, 1766, Fyvie Castle, Aberdeenshire, NT).
Read more
Batoni's characterization is not profound, but it is usually vivid (he had a reputation for creating a good likeness), and he presented his sitters with dignity and elan. His polished and learned style shows his admiration for the classical tradition of Raphael, Reni, and Maratta, but it also has a Rococo grace and delicacy of touch. He earned a fortune from his work and his large house was a social, intellectual, and artistic centre, frequented by many distinguished visitors to Rome. At the time of his death he was probably the most famous artist in Europe, but his reputation went into eclipse in the 19th century and did not seriously revive until the later 20th century.
Text source: The Oxford Dictionary of Art and Artists (Oxford University Press)