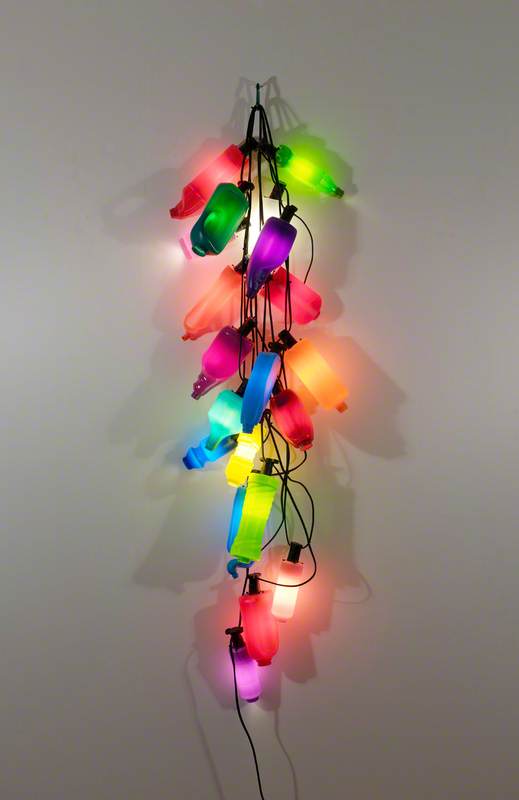 © David Batchelor. All Rights Reserved, DACS 2021. Photo credit: Government Art Collection
Artist and writer, born in Dundee, Angus, who did a foundation course at Watford College of Art, 1973–5; an honours degree in fine art at Trent Polytechnic, Nottingham, 1975–8; and his master's in cultural studies, University of Birmingham, 1978–80. Group exhibitions included Victoria Miro, 1993; Then and Now, Lisson Gallery, 1998; British Art Show 5, various venues, 2000; and Days Like These, Tate Britain, 2003. Solo shows included Apocalypstick, Anthony Wilkinson Gallery, 2000, "the celebration of dangerous cosmetics", many of the works being made from discarded industrial materials; The Spectrum of Hackney Road, same gallery, 2003; and Ikon Gallery, Birmingham, 2004. Batchelor contributed to Artscribe, Frieze and Artforum, his books including Minimalism, 1997, and Chromophobia, 2000, on colour and the fear of it.
Read more
Public commissions included Chapel of Love, Sadler's Wells Theatre, and Chromodesks, Pier Trust, both 2000. Contemporary Art Society holds Batchelor's work.
Text source: 'Artists in Britain Since 1945' by David Buckman (Art Dictionaries Ltd, part of Sansom & Company)