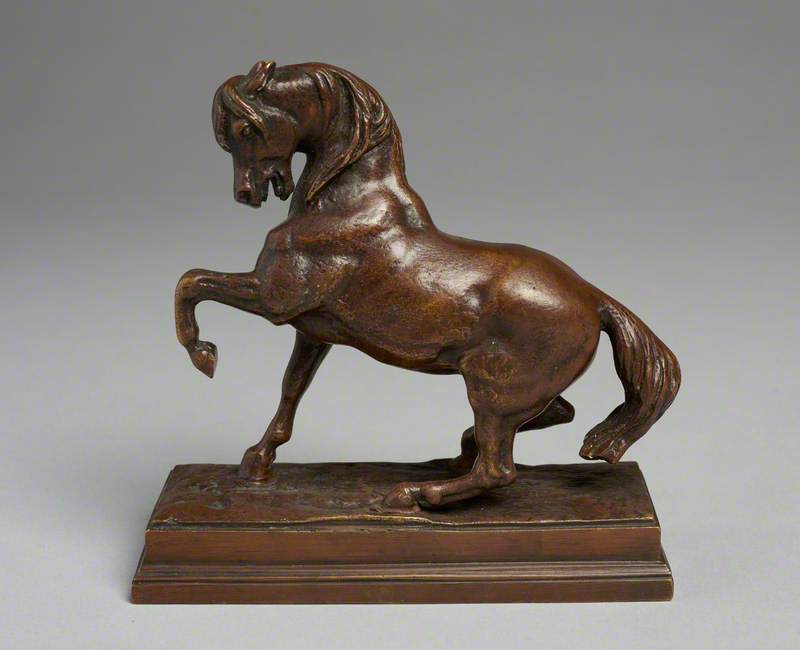 Photo credit: Glasgow Museums
(b Paris, 24 Sept. 1796; d Paris, 25 June 1875). French sculptor, painter, and printmaker. Barye was the most famous animal sculptor of the 19th century and was largely responsible for making the small animal bronze a recognized genre; artists specializing in this kind of work became known as animaliers. He trained as a goldsmith (his father's profession) and also studied sculpture and painting (Gros was briefly his teacher). His knowledge of animals came partly from observing them in the Jardin des Plantes, Paris, and partly from extensive reading. In 1831 he had his first notable success at the Salon with Tiger Devouring a Gavial (Louvre, Paris, and other casts) and this launched his career; only two years later he was made a member of the Legion of Honour.
Read more
Much of his work is in a similar Romantic vein, stressing the drama and savagery of nature. Barye also created large-scale sculptures, including a stone pediment relief of Napoleon Crowned by History and the Arts (1857) on the Sully Pavilion of the Louvre and a bronze equestrian statue of Napoleon (1860–5) at Ajaccio, the emperor's birthplace in Corsica.
Text source: The Oxford Dictionary of Art and Artists (Oxford University Press)