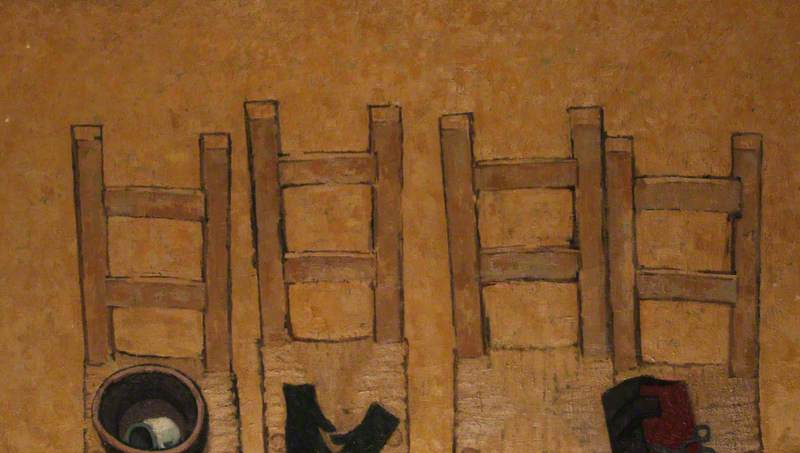 © the artist's estate. Photo credit: University of Southampton
Painter, draughtsman and teacher, brother of the sculptor Oliver O'Connor Barrett, born and lived in Colchester, Essex. He studied at Central School of Arts and Crafts, teachers including Bernard Meninsky, John Farleigh and William Roberts, 1936–40. Began teaching in 1947, from 1968 being tutor at Royal Academy Schools. As an artist Barrett strove "to make works which are well made and without false feeling". Barrett's pictures, using a muted palette, were sometimes completed over several years, could be subject to reworking and were notable for the meticulous placing of objects and people within them. Barrett was a member of Colchester Art Society and took part in its Fifty Years Anniversary Exhibition at Chappel Galleries, Chappel, in 1996.
Read more
Other group shows included LG; Wildenstein; RA; Piccadilly and Mercury Galleries; Roland, Browse & Delbanco and widely overseas. Solo shows included Beaux Arts Gallery from 1954; Minories, Colchester, from 1962; Alwin Gallery from 1966; Oxford Gallery, Oxford, from 1971; Mansion House, Ipswich, 1987; retrospective at Barbican Centre and Minories, 1996; an eightieth birthday show at Chappel Galleries, 2000; and Celebrating Man: Remembering Roderic Barrett, University of Essex, 2002. In 2003, there was an exhibition at Chappel Galleries and launch of David Buckman's profusely illustrated biography of the artist, including a thorough catalogue of pictures. Another followed at The Millinery Works in 2004. Victoria & Albert Museum and many provincial galleries hold Barrett's work.
Text source: 'Artists in Britain Since 1945' by David Buckman (Art Dictionaries Ltd, part of Sansom & Company)