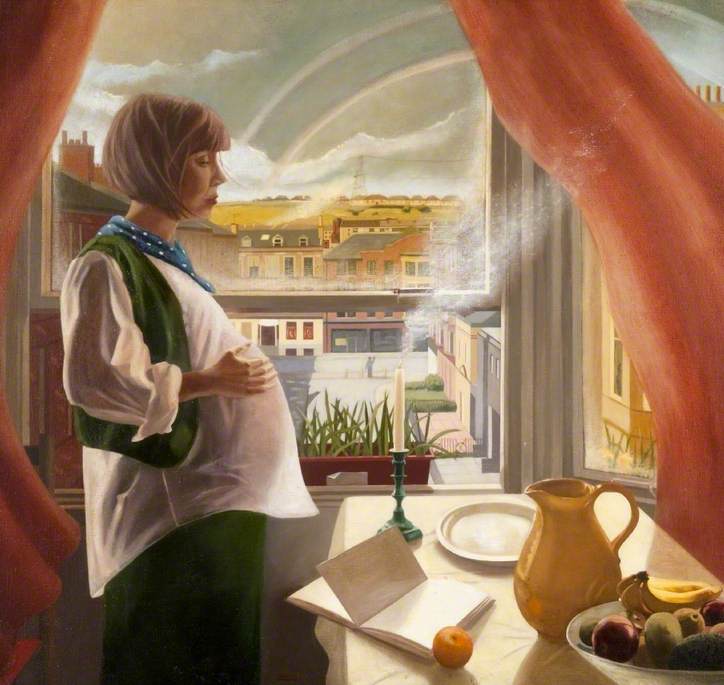 © the artist. Photo credit: Glasgow Museums
Painter and teacher, born in Oxford, who studied at Glasgow School of Art, 1980–4, gaining an honours degree in drawing and painting. In 1985–6 she won an Elizabeth Greenshields Foundation, allowing European travel, with several months in Amsterdam. After a period working at Compass Gallery, Glasgow, 1987–9, she left to paint full-time, in 1990 being visiting artist on the Castle Toward, Strathclyde Education, art course. Further awards included Royal Glasgow Institute of the Fine Arts David Cargill Award in 1990; and in 1991 the Scottish Artist Prize at Royal Over-Seas League Open and the Scottish Amicable Award at the Royal Glasgow Institute. Banks took part in many group shows from 1984, where she appeared in New Generation Artists at Compass; also Paisley Drawing Competition, Paisley Museum, from 1989; Jobson's Choice, Jill George Gallery, 1992; and Royal Over-Seas League Open, 1995.
Read more
Was in 1999 artist-in-residence, with a solo show, at Edinburgh Zoo; solo exhibition at Cyril Gerber Fine Art, Glasgow, 2001. Banks' work blended realistic and Surrealist elements. Aberdeen Art Gallery, Lillie Art Gallery in Milngavie, BBC Scotland and Motherwell District Libraries hold examples.
Text source: 'Artists in Britain Since 1945' by David Buckman (Art Dictionaries Ltd, part of Sansom & Company)