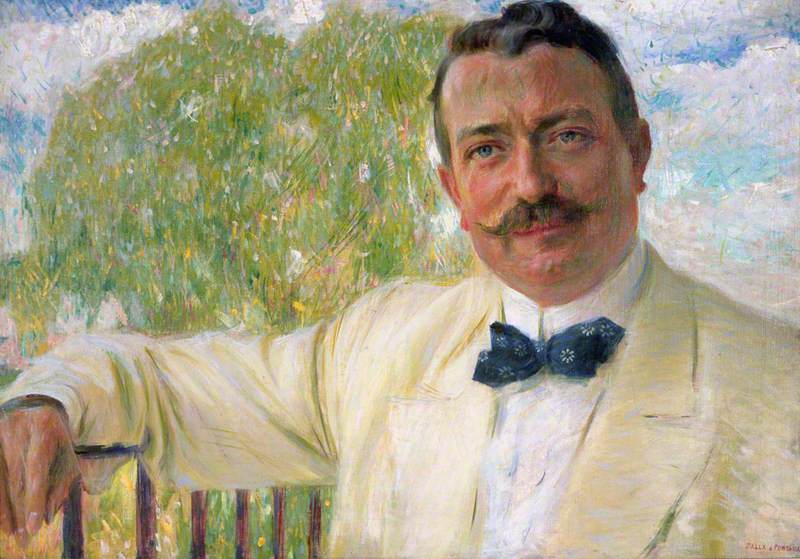 © DACS 2022. Photo credit: Estorick Collection, London
(b Turin, 18 July 1871; d Rome, 1 Mar. 1958). Italian painter and sculptor, active mainly in Rome, one of the leading Futurist artists. From a visit to Paris in 1900–1 Balla brought back to Italy a feeling for divisionism and for colour and light that he passed on to Boccioni and Severini. His early works included landscapes and portraits, but after the turn of the century he became increasingly interested in portraying aspects of modern industrialized life. In 1910 he joined the Futurists and soon became preoccupied with their characteristic aim of portraying movement. Unlike the other Futurists, however, Balla was not interested in machines and violence and his paintings tend towards the lyrical and the witty, as in the delightful Dynamism of a Dog on a Leash (1912, Albright-Knox AG, Buffalo), in which the multiple impressions of the dog's legs and tail convey movement in a manner that later became a cartoon convention.
Read more
In 1913–16 he went beyond the principles of the Futurist manifestos, painting pictures that approach pure abstraction, showing only the most residual resemblance to the observations in reality that inspired them (Abstract Speed—the Car Has Passed, 1913, Tate, London). Following the First World War, Balla stayed true to the ideals of Futurism after his colleagues had abandoned them, but in the 1930s he turned to a more conventional style. By the end of his long life he was much admired as the last survivor of a brilliant phase of modern Italian art.
Text source: The Oxford Dictionary of Art and Artists (Oxford University Press)