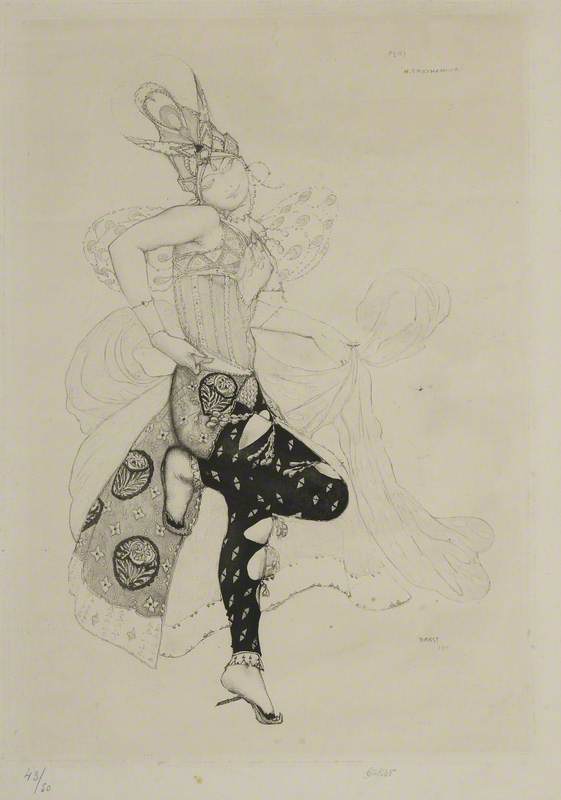 Photo credit: Ben Uri Collection
(b Grodno, 28 Apr. [10 May] 1866; d Paris, 27 Dec. 1924). Russian painter, graphic artist, and stage designer, active for much of his career in Paris. He was a founder member of the World of Art group in 1898. Originally he made his reputation as a portraitist, but from about 1902 he turned increasingly to stage design and is now remembered above all for his costumes and sets for Diaghilev's Ballets Russes, his work playing a major part in the tremendous impact the company made in the West. The Diaghilev ballets for which he made designs include some of the most celebrated works in the history of dance, notably The Firebird (1910, music by Stravinsky), L'Après-midi d'un faune (1912, music by Debussy), and Daphnis and Chloe (1912, music by Ravel).
Read more
Bakst's work revolutionized stage design. His costumes and sets are remarkable for their sheer uninhibited splendour, combining Oriental fairy-tale magnificence with the gaudy colours of Russian peasant art (he believed that colour could have a significant emotional effect on spectators).
Text source: The Oxford Dictionary of Art and Artists (Oxford University Press)