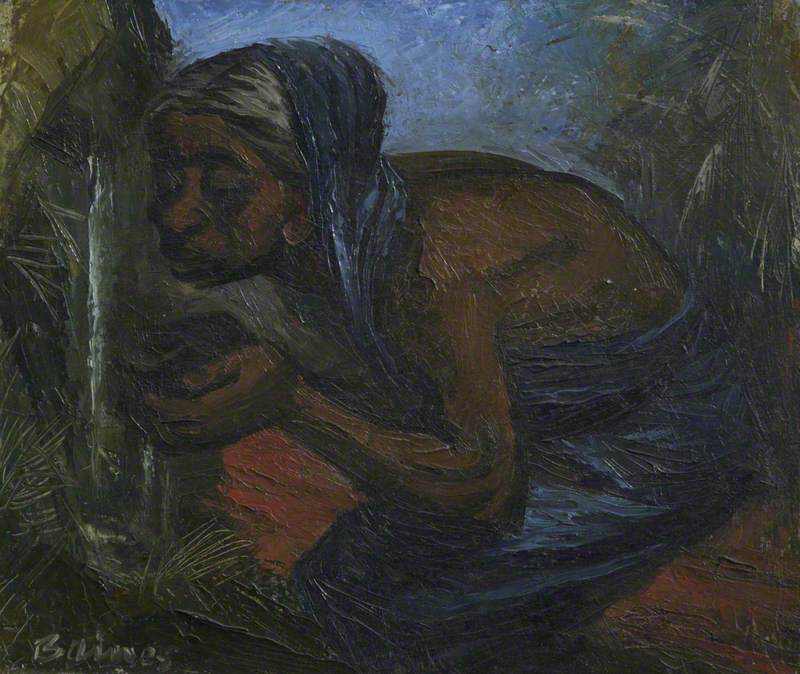 © the copyright holder. Photo credit: The Box (Plymouth City Council)
Realistic figurative painter and draughtsman, full name Frederick Harry Baines, born in Manchester, who attended the School of Art there, 1930–4, gaining a diploma in mural painting. During the next five years Baines completed several murals in the north of England, Timperley Church, Cheshire, and Longford Cinema, Manchester, being represented in the Tate Gallery show Contemporary British Mural Painting, 1938. Service in the Royal Engineers, 1941–6, introduced Baines to India; he was seconded to be design studio director for the Indian government's exhibitions division information department. On later visits Baines recorded impressions of a new steelworks; painted murals for the British pavilion at the Delhi Industrial Fair; with Richard Lannoy prepared the book The Eye of Love on temple sculpture, 1976; and produced drawings exhibited as part of the Festival of India, 1983.
Read more
Baines' interest in Neo-Realism had been stimulated by meeting Italian artists such as Guttuso, Mucchi, Zigaina and Treccani, whose work dominated the Venice Biennale of 1951. Baines' "superb draughtsmanship" was praised by critic John Berger, who noted that "the weight of a stone that a woman carries on her head can be seen in her ankle." Mixed shows included RA, Whitechapel Art Gallery, Leicester Galleries and The Forgotten Fifties, Graves Art Gallery, Sheffield, and tour, 1984. Later solo shows included a series at Camden Arts Centre from 1980; Alpha House Gallery, Sherborne, 1992; and a memorial exhibition at Art Connoisseur Gallery, 1996. Lived in London.
Text source: 'Artists in Britain Since 1945' by David Buckman (Art Dictionaries Ltd, part of Sansom & Company)