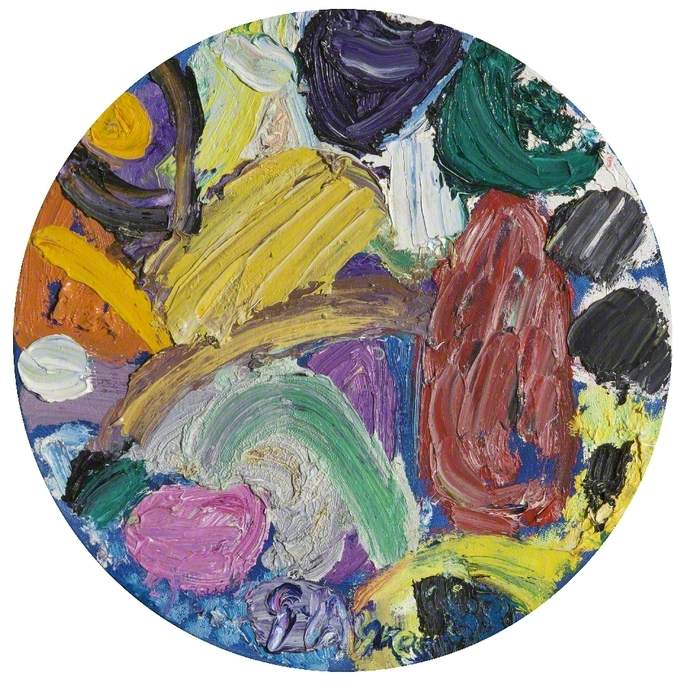 © the artist's estate. Photo credit: The John Creasey Museum
British abstract painter, born in London, where she studied at Camberwell School of Art, 1946–50. Tim Hilton described her as one of the British painters of her generation who were 'impatient with landscape, the life-room, or *neo-romanticism'. She was one of the first British painters to be influenced by American *Abstract Expressionism and *Colour Field Painting, and was among the artists who first achieved prominence at the *'Situation' exhibition in 1960. Some of her work of the late 1950s made use of *Pollock's drip techniques (she was more influenced by the photographs of Pollock at work than her experience of the paintings themselves) and in the 1960s she did some lusciously coloured stain paintings. From 1977 when she returned to the use of oil paint, after several years of working with acrylic, her paint surfaces became richer and thicker.
Read more
Ayres taught at *Bath Academy of Art, Corsham, 1959–66, *St Martin's School of Art, 1966–78, and Winchester School of Art (as head of painting), 1978–81. She then moved to Wales and devoted herself full-time to painting. She now lives and works in London and Cornwall. A retrospective exhibition at the Serpentine Gallery in 1983 enhanced her standing as a leading figure in British abstract painting. She was elected as a *Royal Academician in 1992. Further Reading Arts Council of Great Britain, Gillian Ayres (1983). Catalogue introduction by Tim Hilton.
Text source: A Dictionary of Modern and Contemporary Art (Oxford University Press)