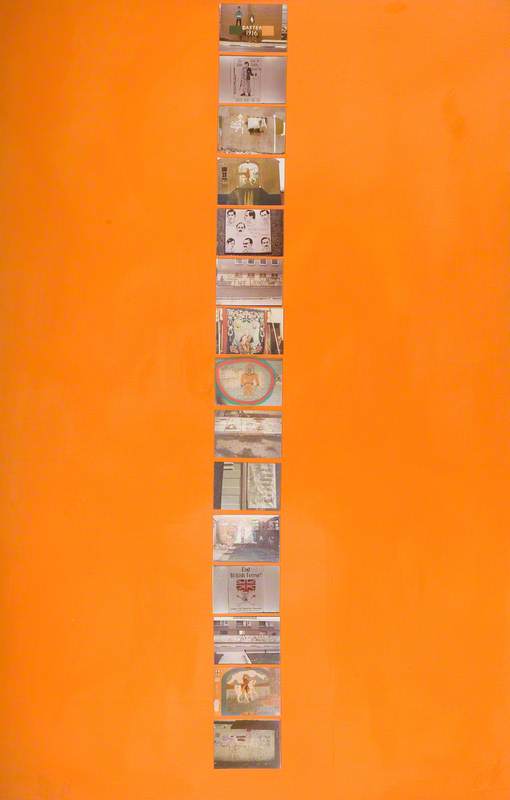 © the artist. Photo credit: Wolverhampton Arts and Heritage
Artist using variety of media, and teacher, born in Cumbria, whose work frequently had political and social implications and was on occasion controversial. He studied at Carlisle College of Art, 1957–61; Liverpool College of Art, 1961–2; then Royal Academy Schools, 1962–5. In the latter year he gained Leverhulme Award and Abbey Minor Scholarship, then in 1967 won a Granada Fellowship. As well as taking part in a number of important group exhibitions, Atkinson had solo shows; in 1972 his show Strike was held at ICA; the same venue being chosen for Work, Wages and Prices in 1974; then the year following his subject was Northern Ireland at Belfast Arts Council Gallery, this topic being repeated at Art Net in 1976; in 1977 his exhibition Approaching Reality was staged at Northern Arts Gallery, Newcastle upon Tyne.
Read more
From 1974–6 Atkinson was fellow in fine arts at Northern Arts Association in Newcastle, 1976 onwards joining the staff of Slade School of Fine Art. His installation For Emily: Plus Equals, based on Emily Brontë, was held at Dean Clough, Halifax, 1992, he had a show at Bluecoat Gallery, Liverpool, 1999–00, and in 2002 others at the Courtauld Institute Gallery and Wolverhampton Art Gallery. Arts Council holds his work.
Text source: 'Artists in Britain Since 1945' by David Buckman (Art Dictionaries Ltd, part of Sansom & Company)