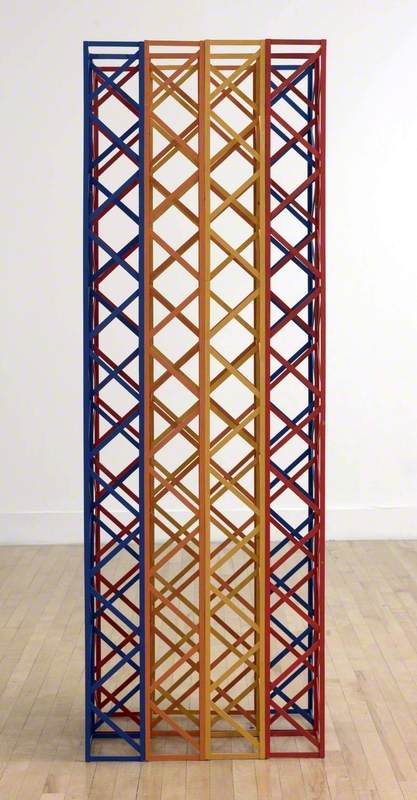 © Rasheed Araeen. All Rights Reserved, DACS 2023. Photo credit: Tate
Pakistani artist, writer, and curator. He studied engineering at the University of Karachi, and moved to London in 1964. He was self-taught as an artist and began making abstract sculptures. These were colourful cage-like structures close to the systemic work of an American *Minimalist such as Sol *LeWitt. Concern at the racism of the art world led Araeen towards radical politics, and in 1972 he joined the Black Panther Movement. He founded the magazine Black Phoenix, which explored the relationship between contemporary art and racial politics. In 1987 it became Third Text, a more academic journal that addressed issues of culture and post-colonialism. In 1989 he organized the exhibition 'The Other Story', which was held at the Hayward Gallery (see Arts Council) and Manchester Art Gallery; it showed the wealth of art produced by artists of Afro-Asian descent in Britain, including Francis *Souza and Sonia *Boyce, and also raised issues about their marginalization.
Read more
Araeen's work as an artist has also concentrated on such issues. Green Painting 1 (1984–5, Arts Council collection) is organized on a nine-part grid like a piece of Western abstraction (a *Reinhardt black painting, for instance). There are four panels painted green, a colour associated with Islam and also that of the Pakistani flag. The other panels show blood on the streets: these depict a Muslim animal-slaying festival. There are also headlines in Urdu that describe events in Pakistan such as the visit of Richard Nixon. Brandon Taylor comments that a competent spectator of the work, that is, someone who understood the cultural significance of the photographs, read Urdu, and was familiar with Minimal art, would have 'no single or simple identity behind which to hide' (Art of Today, 1995).
Text source: A Dictionary of Modern and Contemporary Art (Oxford University Press)