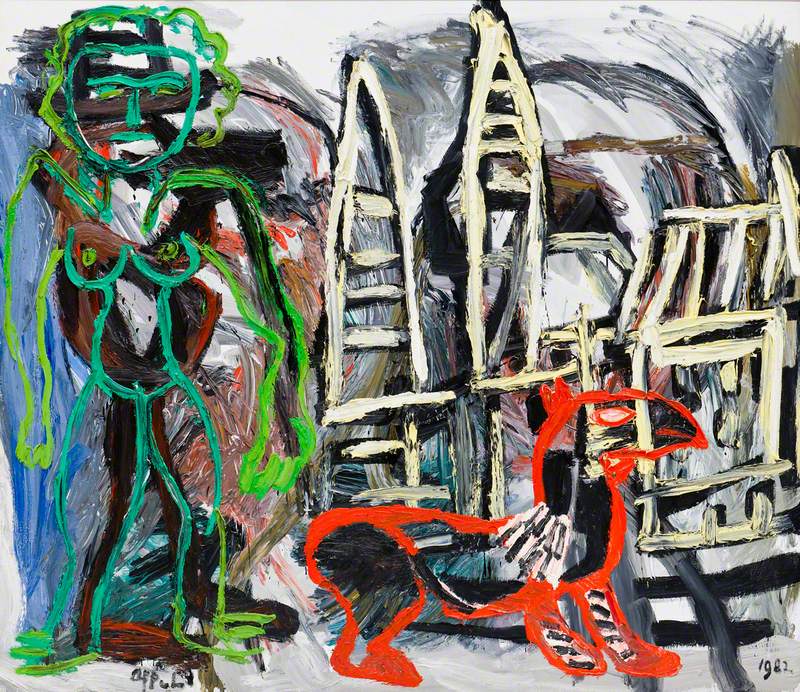 © DACS 2023. Photo credit: Amgueddfa Cymru – National Museum Wales
(b Amsterdam, 25 Apr. 1921; d Zurich, 3 May 2006). Dutch painter, sculptor, printmaker, ceramicist, designer, and writer, regarded as the most powerful of the post-war generation of Dutch artists. In 1948 he was a founder of the Cobra group. He moved to Paris in 1950 and by the end of the decade he had gained an international reputation, having travelled widely and won several prestigious prizes. His most characteristic paintings are in an extremely uninhibited and agitated Expressionist vein, with strident colours and violent brushwork applied with very thick impasto. The images can look purely abstract at first glance, but they usually retain suggestions of human masks or of animal or fantasy figures, sometimes fraught with terror as well as a childlike naivety: Herbert Read wrote that in looking at his pictures one has the impression 'of a spiritual tornado that has left these images of its passage'.
Read more
Such works were influential on Neo-Expressionism. Appel also made sculpture, prints, and ceramics, and he did a wide range of design work, including the scenery for a ballet, Can We Dance a Landscape?, for which he also wrote the plot; it was performed at the Opéra Comique in Paris in 1987.
Text source: The Oxford Dictionary of Art and Artists (Oxford University Press)