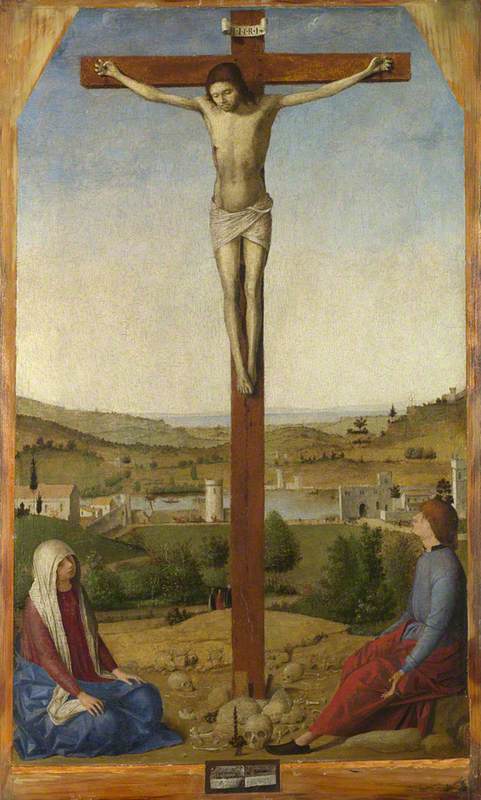 Photo credit: The National Gallery, London
(b Messina, c.1430; d Messina, 14/25 Feb. 1479). Italian painter, mainly active at Messina in Sicily, the most famous artist to come from the island. He was one of the major pioneers of oil painting in Italy. According to Vasari he learnt the technique from Jan van Eyck, but there is no evidence that he ever visited northern Europe and he was in any case probably still a boy when Jan died in 1441. It is more likely that he acquired his knowledge of northern techniques in Naples, then artistically dominated by the Netherlands: an early 16th-century source indicates that he studied there under Niccolò Colantonio (?c.
Read more
1420–?c.1460), who was probably the leading Neapolitan painter of his time. Antonello's life is poorly documented and his only certain visit to the Italian mainland was during 1475–6, when he was in Venice. There he painted a large altarpiece for the church of S. Cassiano, of which only three fragments remain (KH Mus., Vienna). Vasari says that Antonello brought the 'secret' of oil painting to Venice, and while this is an exaggeration, his altarpiece and other works he painted there did have 'a far-reaching influence…during the decade or two succeeding his visit' (Johannes Wilde, Venetian Art from Bellini to Titian, 1974). He showed how the medium could be used to create previously unknown atmospheric and colouristic effects, and Giovanni Bellini, most notably, was greatly impressed by the lucidity and spaciousness of his work. Antonello's bust portraits—in three-quarter view, of Netherlandish type—also enjoyed a notable vogue in Venice; their expressions were more lively than in the portraits by Memlinc then being imported and, like Antonello's religious works, they show a remarkable ability to combine northern particularity of detail with the Italian tradition of grandeur and clarity of form. Good examples of Antonello's portraits are in the National Gallery, London (this one is often considered a self-portrait), and in the Louvre, Paris.
Text source: The Oxford Dictionary of Art and Artists (Oxford University Press)