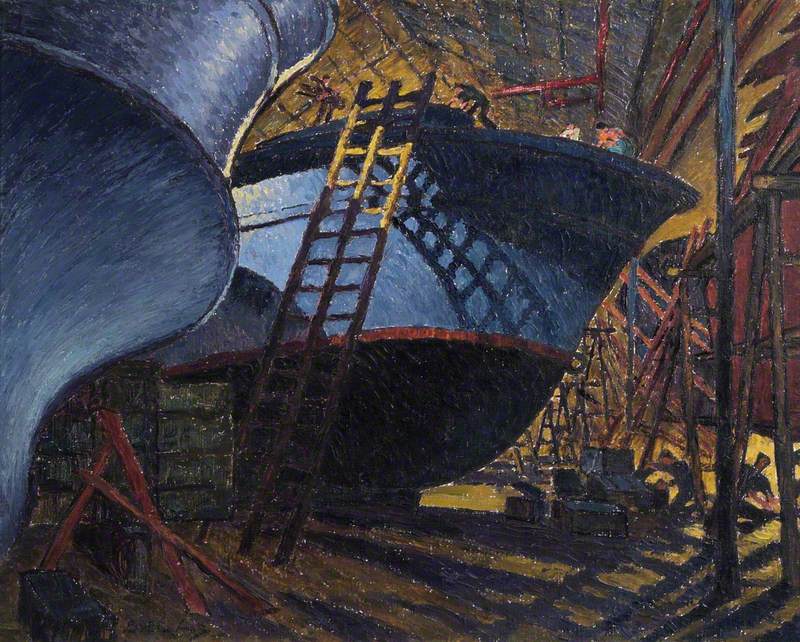 © Glenbow Museum, Calgary, Alberta, Canada. Photo credit: Royal Air Force Museum
Painter, etcher and engraver, born in Bury St. Edmunds, Suffolk. Her first encounter with art took place in 1918 when she enroled for a course at the John Hassall Correspondence School as a part-time student. At the time, she was working for the Standard Motor Company as a torch welder. She furthered her studies at Heatherley's, and afterwards was associated with Claude Flight and Iain MacNab at the Grosvenor School of Modern Art, where she was Secretary. A regular exhibitor during the inter-war years, of particularly her linocuts at the Redfern Gallery, she emigrating to Canada in 1947.
Read more
Sybil Andrews settled in British Columbia, Canada where she taught art for many years and examples of her work are in the collections of the V&A, BM and in museums and art galleries around the world including Leeds City Art Gallery, Hugh Lane Municipal Gallery of Modern Art, Dublin and the National Gallery of South Australia, Adelaide. She was a member of the Canadian Society of Painter-Etchers and Engravers and her career was rekindled when Michael Parkin gave her an exhibition at his gallery in 1980. Paintings which are a rarity by Andrews are in the RAF Museum, Hendon and some of her posters signed as 'Andrew Power' are in the collection of LTM.
Text source: Liss Llewellyn