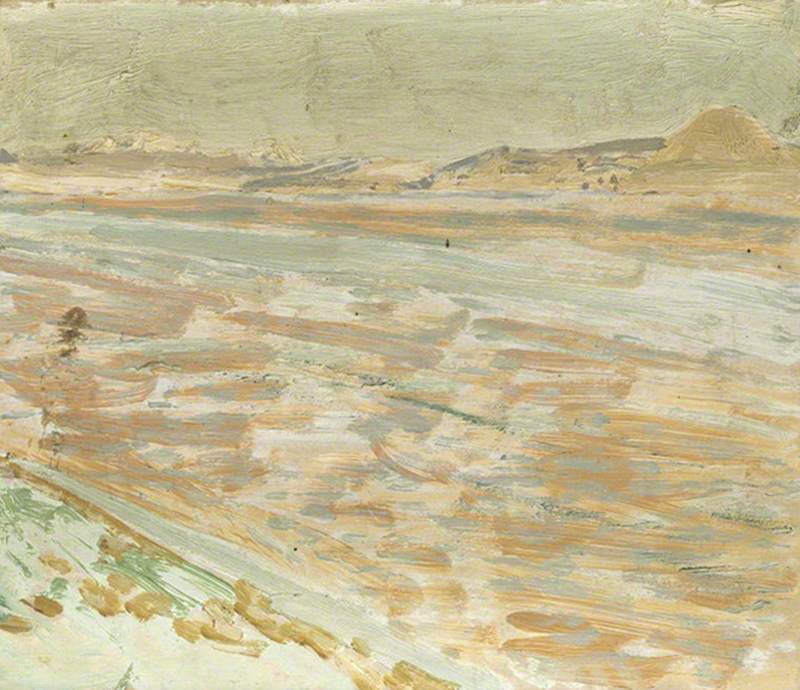 © the copyright holder. Photo credit: National Trust Images
Painter, born in Windermere, Westmorland, daughter of artist and archaeologist W G Collingwood, her mother being the miniaturist Edith Mary Dorothy Collingwood, her daughter the painter Mavis Altounyan. W G Collingwood was biographer of John Ruskin, a close friend. From 1903, with her sister Barbara, Dora studied at Cope's Drawing School, from 1905–9 at Reading University, where their father had become professor of art. Tutors included Walter Crane and the Arts and Crafts-oriented curriculum included metalwork and art history. During the five years pre-World War I, she attended La Grande Chaumière, L'Académie Nouvelle and L'Académie de la Palette, in Paris, teachers including G D Desvalières, Jean Metzinger and J D Fergusson, and saw Fauve, Cubist and Futurist pictures.
Read more
Back in England, Dora had limited exhibiting success before marrying the half-Irish, half-Syrian Armenian doctor Ernest Altounyan, settling in Aleppo, Syria 1919–56, where she brought up her family, helped run a hospital and painted. Churches and archaeological sites, her family, the local population and visitors, such as the writers Agatha Christie and Arthur Ransome, were subjects. She also painted colourful images of England on visits, and was elected to the Lake Artists' Society in 1934. After expulsion from Syria Dora returned to Lakeland where at Kendal's Abbot Hall Art Gallery in 1989 she was part of a three-woman show. Two of her pictures are displayed at Clouds Hill, Dorset, the National Trust-run home of T E Lawrence, who was a friend of the Altounyans.
Text source: 'Artists in Britain Since 1945' by David Buckman (Art Dictionaries Ltd, part of Sansom & Company)