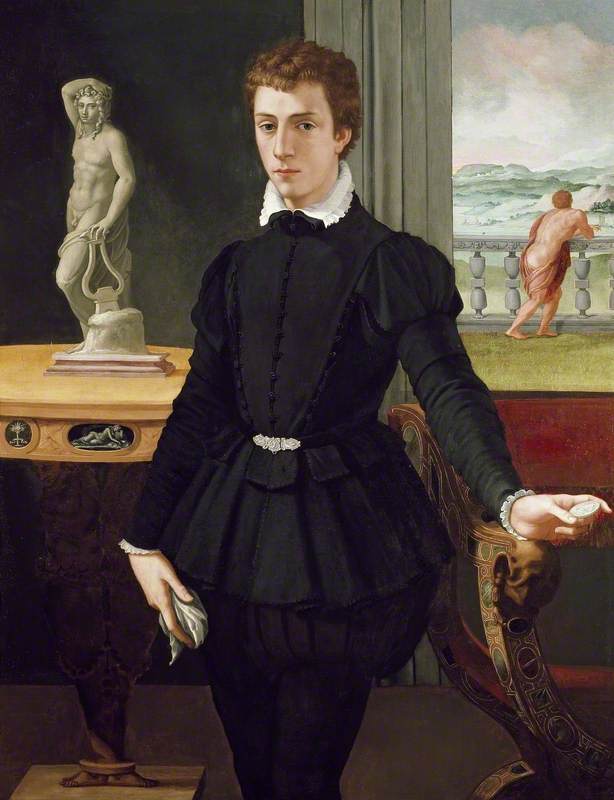 Photo credit: Ashmolean Museum, Oxford
(b Florence, 31 May 1535; d Florence, 22 Sept. 1607). Florentine painter, the pupil and adopted son of Bronzino. From 1554 to 1560 he lived in Rome, where he added the influence of Michelangelo's Last Judgement to that of his master's courtly Mannerism. His varied output included altarpieces, portraits, and tapestry designs. The Pearl Fishers (1570–1, Studiolo of Francesco I, Palazzo Vecchio, Florence) is generally considered his masterpiece: playful and full of artifice, it combines nude figures obviously drawn from Michelangelo with Bronzino's svelteness and enamelled colouring. He was one of the last notable Italian exponents of Mannerism, painting in a style that was becoming outmoded by the time of his death. His son Cristofano (b Florence, 17 Oct.
Read more
1577; d Florence, 1 Apr. 1621) was one of the leading Florentine painters of his period, and his style was more naturalistic and Baroque than that of his father. He produced various types of work, but he is remembered primarily for one picture, Judith with the Head of Holofernes (c.1615, Pitti, Florence, and other versions), which in the 18th and 19th centuries was one of the most famous paintings in Italy. Allori led a notoriously dissipated life (interspersed with bouts of pious asceticism) and here his femme fatale mistress is portrayed as Judith and he has depicted his own features in Holofernes's severed head. The Ashmolean Museum in Oxford has portraits by both Alessandro and Cristofano Allori.
Text source: The Oxford Dictionary of Art and Artists (Oxford University Press)