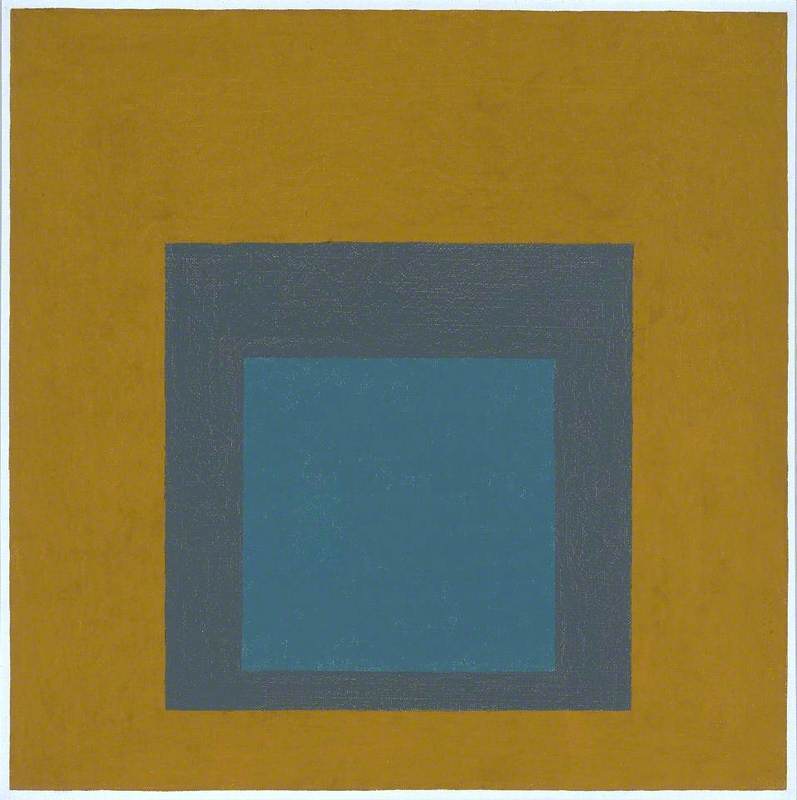 © The Josef and Anni Albers Foundation/VG Bild-Kunst, Bonn and DACS, London 2023. Photo credit: Tate
(b Bottrop, 19 Mar. 1888; d New Haven, 25 Mar. 1976). German-born painter, designer, writer, and teacher, who became an American citizen in 1939. He studied (1920–3) and taught (1923–33) at the Bauhaus, where his activities embraced stained glass, typography, and furniture design. When the Bauhaus closed in 1933 he emigrated to the USA. He was one of the first of the Bauhaus teachers to move there and one of the most energetic in propagating its ideas. From 1933 to 1949 he taught at Black Mountain College, and from 1950 to 1959 he was head of the Department of Design at Yale University (the art gallery there has an outstanding collection of his work); he lectured at many other institutions and won numerous academic awards. From 1949 until his death he worked on a long series of paintings called Homage to the Square and it is for these uncompromisingly abstract pictures that he is best known: they consist of three or four squares of carefully planned size set inside one another, painted in flat, usually fairly subdued colours.
Read more
He favoured the square so much because he believed that of all geometrically regular shapes it best distanced a work of art from nature, emphasizing its man-made quality. The colours in which they were painted often demonstrated the tendency of colours placed in proximity to expand or contract, advance or recede, in relation to each other. Albers's research in this area appeared in Interaction of Color (1963), the most important of his numerous publications. His rational approach and disciplined technique were influential on geometrical abstract painters such as Op artists. Albers' wife, Anni Albers (1899–1994), whom he met when she was a student at the Bauhaus, was a weaver; her rectilinear designs have something of the severe economy of her husband's paintings.
Text source: The Oxford Dictionary of Art and Artists (Oxford University Press)