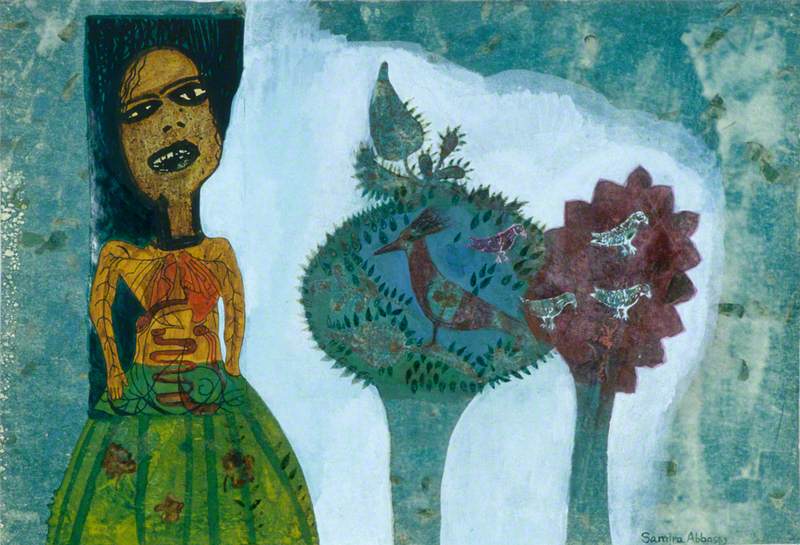 © the artist. Photo credit: Government Art Collection
Painter, teacher and film-maker, born in Ahwaz, Iran. She moved to Britain in 1967 and completed a foundation studies diploma at Maidstone College of Art, 1983–4. An honours degree in fine art was achieved with studies at Birmingham Polytechnic, 1984–5, then Canterbury College of Art, 1985–7. From 1987 Abassy (pronounced Abbassy) was busy in group shows, work being included in Coast Lines, at Towner Art Gallery, Eastbourne, and Brilliant New Discoveries, at Drew Gallery, Canterbury, both in 1987; South East Young Painters, at Metropole, Folkestone, 1988, where she gained a first prizewinner purchase award; and at Mercury Gallery, where she had a solo show, 1993. She also gained the M&G Purchase Prize, RA, 1997. Abbassy was an invited lecturer at Kent Institute of Art & Design, 1994; a visiting lecturer, University of East London, 1996; and at the University of the West of England, 1998; and she taught at a printmaking workshop, Hunter College, New York, America, 2001.
Read more
Was art director for two short films in 1988–9: Little Lotte and Peter and the Wolf. Her work, often small and rather naïve in appearance, was sometimes based on Iranian folk tales. South Eastern Arts Collection holds her work, as does the Government Art Collection. Abbassy's later solo exhibitions included Skoto Gallery, New York, 2002 and she was one of Two Artists from Iran: Samira Abbassy & Christine Khondji, England & Co, 2004. Her first husband was the artist Len Shelley. After marrying again, she lived for a time in New York.
Text source: 'Artists in Britain Since 1945' by David Buckman (Art Dictionaries Ltd, part of Sansom & Company)