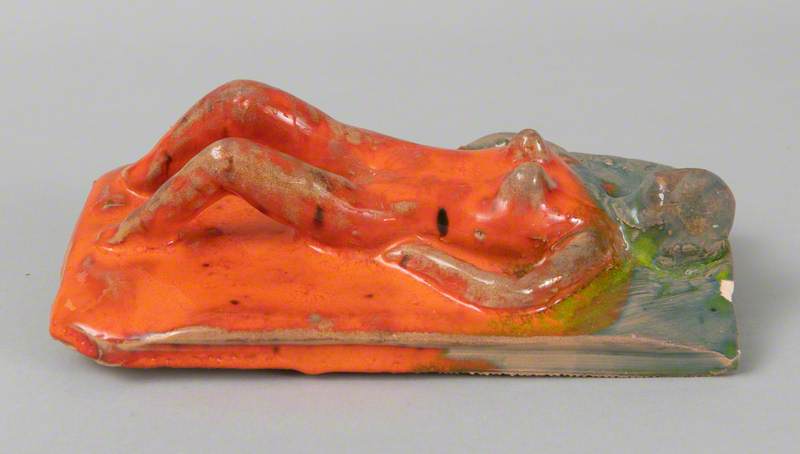 © the copyright holder. Photo credit: The Adamson Collection
clay
Soil composed of the dust from igneous rocks mixed with water. Soft and sticky, it can be moulded or cut into shapes which are hardened on exposure to heat. The first known form of handwriting, cuneiform script, was on tablets of clay and developed in Mesopotamia c.3000 bc. Clay has been used for many purposes including the manufacture of seals, bricks, tiles, jars, and jugs.
Read more
In sculpture it has been used to make models for larger pieces, for moulds of works to be cast in metal, or as sculpture in its own right. Clay is also the main ingredient for all ceramic bodies.

pottery
A coarse textured ware made from clay and fired in a kiln. The earliest examples date from the Neolithic period when nomadic life was abandoned and settled life began. Early pieces were hand-built, using a thumb pressed into a ball of clay, or coiled, where a long strip of clay is coiled into a pot and pressed together. The wheel was the main piece of equipment used in manufacture and was known in ancient Egypt, China, and the Near East. Pottery is normally divided into two types, depending on the temperature it is fired at in the kiln. Earthenware is normally fired up to 1,000 degrees celsius, to produce a fairly coarse body. It is glazed in order to make it non-porous, usually with a translucent lead glaze, or an opaque white tin-glaze, when it is known as faience, delft, or maiolica. Stoneware is fired up to 1,400 degrees celsius to produce a close-textured, non-porous body, which can be white, brown, red, or buff, depending on the natural colour of the clay. It can be left unglazed, or glazed with the addition of salt in the kiln, when it is known as salt-glazed stoneware.
Text source: The Oxford Concise Dictionary of Art Terms (2nd Edition) by Michael Clarke