Art UK is a small charity with staff and volunteers across the UK and offices in London and Glasgow. Visit the Contact us page for individual contact details.

2018 Patron
Art UK is delighted to appoint Cornelia Parker RA as the first Art UK Annual Patron.
The British sculptor and installation artist is the first of a series of Annual Patrons, drawn from the art and museum world, who we will appoint to help promote our work as the digital platform for the UK's publicly funded art collections.
Having an artist as our Patron underlines the importance of our work, which includes showcasing the art of some 40,000 artists.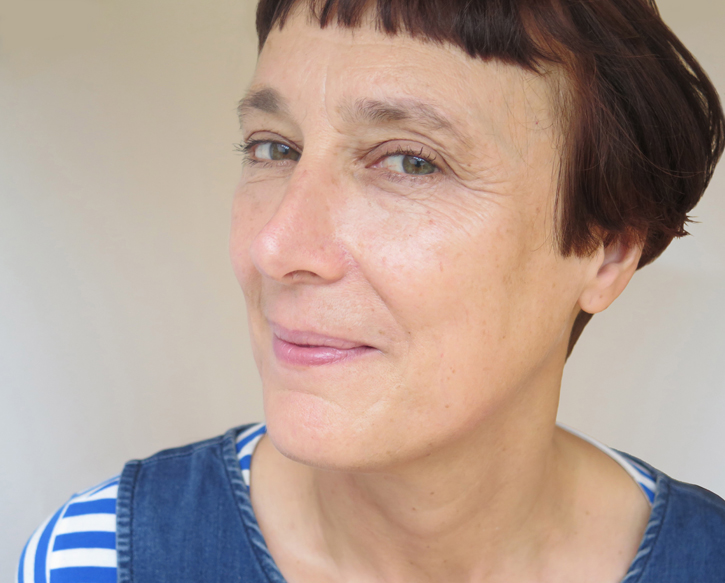 'I am hugely honoured to have been asked to be Art UK's first Annual Patron. Their work to raise the profile of less well-known artists in UK public collections has immeasurable value. I am so happy they are now turning to sculpture and look forward to supporting them in 2018!' – Cornelia Parker
Cornelia Parker RA is well known for her large-scale, often site-specific, installations. Her engagement with the fragility of existence and the transformation of matter is exemplified in two key works: Dark Matter, a suspended reconstruction of a garden shed blown up for the artist by the British Army, and Heart of Darkness, the formal arrangement of charred remains from a forest fire.
For the Metropolitan Museum NY annual roof commission 2015, she created Transitional Object (PsychoBarn) a reconstruction of Hitchcock's Psycho house made from an old red barn.
Parker works in a variety of mediums and has collaborated with institutions such as HM Customs & Excise, Royal Armouries, Madame Tussauds and HM Prisons. She was nominated for the Turner Prize in 1997 and was appointed an Officer of the Order of the British Empire (OBE) in 2010. In 2017, she was the official General Election artist appointed by the Speaker's cross-party committee.
Trustees
Charles Gregson (Chairman)
Non-Executive Chairman, Nex Group plc
Vicky Barnsley (Howard), OBE
Executive Chairman of Castle Howard Estate Ltd, and Trustee of English Heritage
Rana Begum
Artist
Bob and Roberta Smith, OBE
Artist
Camilla Eden-Davies
Group Account Director, WCRS at The Engine Group
Professor David Ekserdjian
Professor of Art History, University of Leicester
George Entwistle
Former Senior Executive, BBC
Clare Lilley
Director of Programme, Yorkshire Sculpture Park
Bob Lisney, OBE
Trustee, Public Monuments and Sculpture Association
Thomas Marks
Editor of Apollo magazine
Graham Southern
Founding Director, Blain|Southern
Kim Streets
Chief Executive, Museums Sheffield
Senior Management
Andrew Ellis Director
Katey Goodwin Deputy Director
Advisors and steering panel
The Art UK Advisory Board and Steering Panels, comprising representatives from national and regional museums, the BBC and other organisations, play a key role in guiding the Art UK team.
Advisors
Art UK Advisory Board
Jonty Claypole Director, BBC Arts
Alison Cole Independent Consultant, formerly on the ACE Executive Board
Caroline Collier Consultant and coach; former Director of Partnerships and Programmes, Tate
Simon Groom Director, Scottish National Museum of Modern Art
Sarah Levitt Formerly Head of Arts and Museums, Leicester City Council

Avril Martindale Intellectual Property Rights Partner, Freshfields
Sarah Phillips Head of History of Art, Godalming Sixth Form College
Dr Mia Ridge Digital Curator, The British Library; former Chair of the Museums Computer Group
Kathleen Soriano Independent curator, broadcaster and Chair of Liverpool Biennial
Iain Watson Director, Tyne and Wear Museums and Galleries
Art UK Steering Panel
Tom Bilson Head of Digital Media, The Courtauld Institute of Art
Nigel Blackamore Senior Curator, Brecknock Museum and Art Gallery
Lucinda Blaser Senior Product Manager, National Gallery
Emma Chaplin Director, Association of Independent Museums
Adrian Cooper Director, Intelligent Heritage; Art UK Technology Advisor
Graham Davies Digital Programmes Manager, National Museum Wales
Christopher Ganley Digital Content Manager, National Galleries Scotland
Kevin Gosling Chief Executive, Collections Trust
Martin Grimes Web Manager, Manchester Art Gallery
Rebecca Hill Exhibitions and Collections Coordinator, Gallery Oldham
Susanna Hillhouse Collections Manager, National Trust for Scotland
Anra Kennedy Content and Partnership Director, Culture24
Lauren Marshall Hall Manager and Audience Development Officer, Merchant Adventurers' Hall, York
Kim Mawhinney Head of Art, National Museums Northern Ireland
Judith Nichol Knowledge Partnerships Manager, BBC
Christopher Parry Museum Community Officer, Merthyr Leisure Trust
Alex Pilcher Front End Developer, Tate
Anne Pritchard Senior Curator: Historic Art, National Museum Wales
Tessa Quinn Digital specialist
Gabriella de la Rosa Lead Editor, Curatorial Content Online, National Trust Collections
David Saywell Head of Digital Programmes, National Portrait Gallery
John Stack Head of Digital, Science Museum
Mona Walsh Head of Digital Communications, National Gallery
Sculpture Steering Panel
Professor David Ekserdjian (Chairman) Professor of Art History, University of Leicester
Professor Malcolm Baker Distinguished Professor, University of California, Riverside (on sabbatical in London)
Ann Compton Honorary Research Fellow History of Art, University of Glasgow; Project Originator, Director and Editor (Mapping Sculpture); Research Consultant (Mobilising Mapping)
Richard Deacon Sculptor
Dr Patrick Elliott Senior Curator, National Galleries of Scotland
Katherine Eustace, FSA Editor, The Sculpture Journal; Trustee, Public Monuments and Sculpture Association (PMSA)
Donald Johnston International Department Head of Sculpture, Christie's
Lisa Le Feuvre Head of Sculpture Studies, Henry Moore Institute
Bob Lisney, OBE Trustee, Public Monuments and Sculpture Association (PMSA)
Dr Temi Odumosu, MPhil, PhD (Cantab) Art Historian, Independent Curator and Educationalist
Dr Rupert Shepherd FSA Collection Information Manager, National Gallery
Greg Sullivan Curator, British Art 1750–1830, Tate
Dr Marjorie Trusted, FSA Formerly Senior Curator of Sculpture, V&A; Co-Investigator (Mapping Sculpture)
Dr Jeremy Warren Formerly Collections and Academic Director, The Wallace Collection
Robert Wenley Head of Collections and Learning, Barber Institute of Fine Art
Jonathan Wood Research Curator, Henry Moore Institute; Project Partner (Mapping Sculpture)
Professor Alison Yarrington Dean of the Faculty of Arts and Social Sciences, Professor of Art History, The University of Hull; Principal Investigator (Mapping Sculpture and Mobilising Mapping)
Audience Broadening Initiative Steering Panel
Lucie Fitton Head of Learning & Participation, The Audience Agency

Cliff Manning Participation and Engagement Manager, Children's Commissioner

Katie Moffat Head of Digital, The Audience Agency

Leyla Tahir ‎Digital Producer, Tate

Richard Turpin Head of Research, The Audience Agency

Art Detective Steering Panel (now retired)
Val Boa Curator, McLean Museum and Art Gallery
Adrian Cooper Director, Intelligent Heritage
Professor David Ekserdjian Professor of Art History, University of Leicester
Rupert Featherstone Director, Hamilton Kerr Institute; Assistant Director, Conservation, Fitzwilliam Museum
Dr Susan Foister Director of Collections and Deputy Director, National Gallery
Peter Funnell Curator of Nineteenth-Century Portraits and Head of Research Programmes, National Portrait Gallery
Andrew Greg Director, National Inventory Research Project; Honorary Research Fellow (History of Art), University of Glasgow
Dr Bendor Grosvenor Independent Advisor
Dr Pat Hardy Head of Collections, Exhibitions and Displays at the National Heritage Centre for Horseracing and Sporting Art
Matthew Hargraves Curator for Collections Research and Head of Collections Information and Access, Yale Center for British Art
Professor Nigel Llewellyn Former Head of Research, Tate
Professor Robert Meyrick Head of the School of Art and Keeper of Art, Aberystwyth University
Ruth Shrigley Principal Manager: Collections Access, Manchester City Galleries
Permissions Portal Steering Panel (now retired)
Matthew Bailey Rights and Images Manager, National Portrait Gallery
Sue Barnard Relationship Manager Museums, Arts Council England
Ann Buky Licensing Consultant
Adrian Cooper Director, Intelligent Heritage
Bernard Horrocks Intellectual Property Manager, Tate
Naomi Korn Museum Copyright Consultant, Naomi Korn Copyright Consultancy
Sarah Saunders Image Workflow, Keywording and Metadata Consultant, Electric Lane
Honorary trustees
Dr Frederick Hohler Founder, Public Catalogue Foundation
Dr Alan Borg, CBE, FSA Former Director, Victoria and Albert Museum
Robert Hiscox Former Chairman, Hiscox PLC
Charles Saumarez Smith, CBE Former Chief Executive, Royal Academy
Kate Trevelyan Former Managing Director, The Burlington Magazine