A few years ago the Fitzwilliam Museum, home to a superb collection of paintings, sculptures and artefacts, became the first collection to sign up to Art UK's paintings project. Today, Cambridge boasts an art collection that pays due testament to its long and illustrious history: since its founding, it has been a cultural and economic centre for Bronze Age farmers, Romans, Vikings, universities and more recently a burgeoning tech industry. Museums such as the Fitzwilliam and Kettle's Yard are just the beginning. Most of the university's 31 colleges have collections of paintings and sculptures, managed and shaped by the predilections of a host of curators. Amongst the list of alumnae and honorary fellows are some of the top names in the art world.
I visited Cambridge to discover some of the sculpture The Sculpture Project is likely to document over the next few years. On the earth and beneath its crust, these outdoor sculptures testify to Cambridge's history as an international nucleus of human development.
5.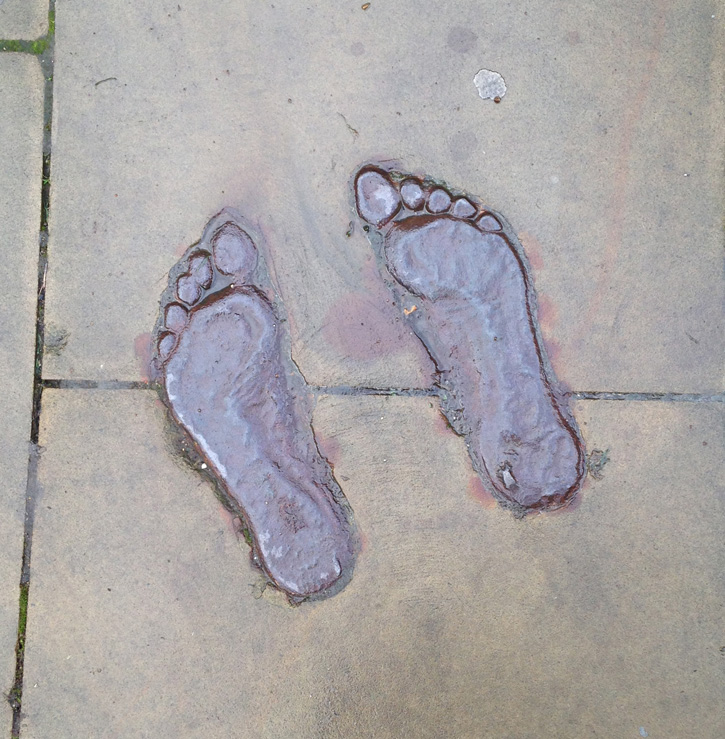 When the laboratories close and the graduates, researchers and fellows have shut down their experiments and joined the throng of humanity exiting the science park under the usual dusting of October rain, one set of footprints is destined not to fade away, nor ever to wander from its spot on an innocuous paving slab near the front gates. Blink and you'll miss it, but retrace your steps; Antony Gormley's upside down sculpture, totally immersed in the earth apart from the soles of its feet, isn't going anywhere.
Gormley asserted that with Earthbound: Plant he intended 'to remove the body from visual perception and replace it within the body of the earth.' The desire to bury himself (his sculptures are based on his own form) in the earth, attests to Gormley's early amalgamation of art with archaeology, and also to his tie with Cambridge: between 1968 and 1971 Gormley studied Archaeology, Anthropology and History of Art at Trinity College, Cambridge, where he is now an honorary fellow.
4.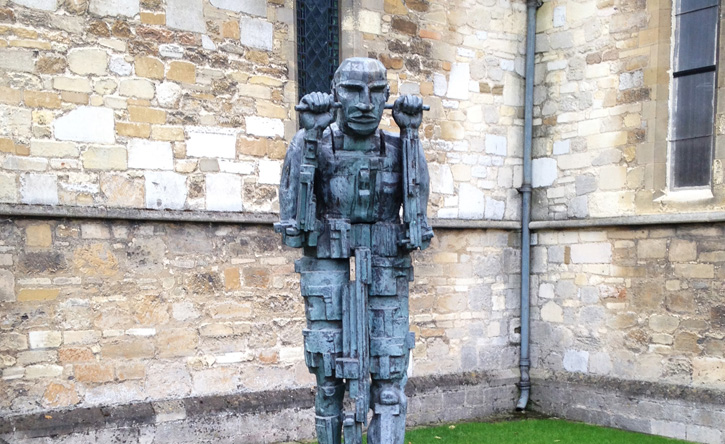 Eduardo Paolozzi was a sculptor who, more than any other, gave us images of humanity in the age of machines. His subject, Daedalus, was a capricious virtuoso artist who designed a maze so brilliant he trapped himself, who created mechanical wings long before Leonardo, and flew to freedom across a sea, who (according to Ovidian myth) 'put his mind to techniques unexplored before and altered the course of nature'. Paolozzi's bronze sculpture of the legendary artist is comprised of cogs, girders and fleshy lips and hands. The figure is tortured: part-human, part machine, his limbs and torso enhanced or impaired by mechanical additions. He stands on a wheeled platform, a gesture that at once mocks the subject's desire to fly, and signifies his making of himself into an art object, worked upon and augmented until it is not clear whether he is man, machine, or art-work.
Daedalus on Wheels is just one of the artworks in Cambridge that testify to Paolozzi's long-standing relationship with Jesus College, where he was an honorary fellow. Students of the college benefit from a library crammed with Paolozzi's prints and another of his sculptures, the famous Newton After Blake, inspired by William Blake's paintings.
3.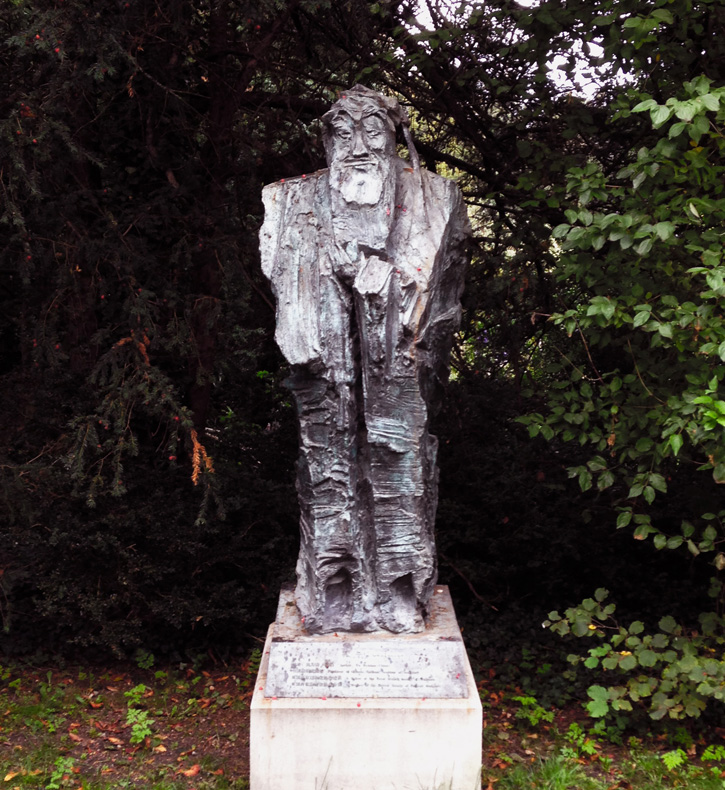 Wu Weishan's Confucius seems to partially emerge from the hewn off hulk of bronze in which he is embedded. His face and robe are idiosyncratic, reminiscent of popular sketches of the Chinese philosopher diplomat executed in the years after his death. His torso is vague, roughly coagulated around two vertical struts of metal. The effect is of an ancient representation that has only been partially recovered; an impression heighted by the sculpture's site in Clare college, pressed into low-hanging trees and shrubbery by the side of a dirt path so that the figure seems to be emerging from or receding into a pre-modern woodland grotto.
The sculptor, Wu Weishan, is the first Chinese artist to become a member of the Royal Society of British Sculptors. Confucius honours another landmark: Nathaniel Vincent, a fellow of Clare College and member of the Royal Society, was the first to translate any of Confucius' work into English.
2.
Henry Moore described his sculpture as depicting 'the dramatic moment that precedes death'. The subject is caught the second before he hits the ground, but there is little that is heroic about it. The figure is voluminous and liquid; its patina is blue-green and stained with dark lichen so that it looks like the surface of the sea. The sculpture looks as though its fall would end with a splash rather than a crash. Yet this pitiable figure is crowned, halo-like, by its shield.
Moore lived through two world wars and fought in one. Although he volunteered to fight in the First World War, soon after the end of the war Moore became disillusioned with combat. During the Second World War, Moore famously sketched people sheltering beneath ground during air raids. Fallen Warrior was cast a decade later and perhaps bears some marks of Moore's distaste for war.
1.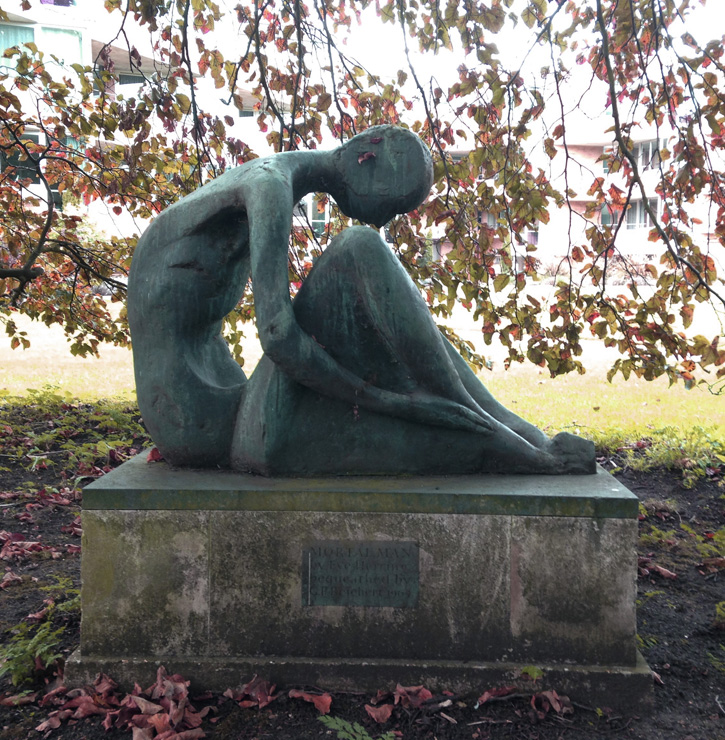 Evelyn Herring's Mortal Man is sited beneath the canopy of a venerable tree whose leafy, autumn-stained limbs scrape the ground in a wide circle around its trunk, forming a private, high-ceilinged space invisible from the nearby path through Jesus College. The bronze figure is hunched and inward focused: it turns its back on its situation and on spectators. The sculpture is intensely melancholy; its setting in the intimate but natural space beneath a tree feels necessary.
The sculptor is as hard to discover or trace as her work. Evelyn Herring – to my knowledge – is a phantasmagorical figure whose only obviously documented work seems to be this sculpture. This work strikes me as the exact reason why The Sculpture Project will be so exciting, as it will throw works such as this into the public eye and will perhaps draw new stories out of the woodwork. Personally, I hope to learn more about Herring in the months and years to come.
Viccy Ibbett, Art UK Volunteer