Work on The Sculpture Project has been taking us around the UK in recent weeks and wherever we go, we keep an eye out for public sculptures to photograph and share on our Instagram account (@yoursculpture).
I had the opportunity to explore Birmingham last week and was struck by the extent and variety of public art in the city centre. Sculptures range from traditional statues of national heroes, such as Queen Victoria and Lord Nelson, to contemporary works by Antony Gormley, Gillian Wearing and Dhruva Mistry.
This is very much a personal top five. If there are other public sculptures in Birmingham that you particularly like, feel free to let us know what they are and why you like them.
5.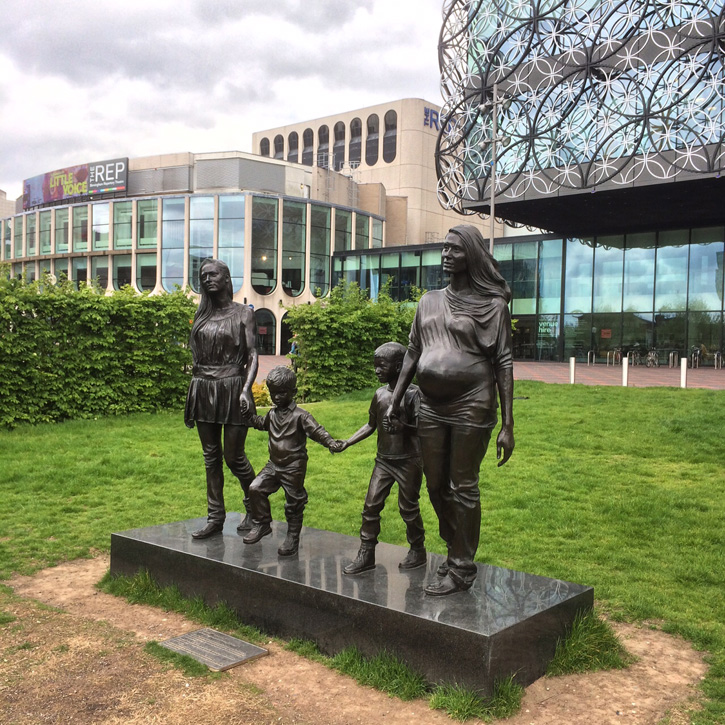 The result of Ikon Gallery's four-year project to find a 'real' Birmingham family to be immortalised in a sculpture, this work was created by Gillian Wearing, a Birmingham-born, Turner Prize-winning artist. Hundreds of families applied to take part in the project before a shortlist of four was selected by a diverse panel of community, cultural and religious figures. From this shortlist, the chosen family was Roma and Emma Jones, sisters and single parents, and their two sons Kyan and Shaye.
The sculpture has provoked some debate and controversy since its unveiling, being targeted by Fathers for Justice campaigners and criticised as a betrayal of traditional family values. Defenders have stated that the work represents Birmingham's cultural diversity and challenges the notion of what constitutes a 'real family' in Britain today.
'I really liked how Roma and Emma Jones spoke of their closeness as sisters and how they supported each other. It seemed a very strong bond, one of friendship and family, and the sculpture puts across that connectedness between them. A nuclear family is one reality but it is one of many and this work celebrates the idea that what constitutes a family should not be fixed.' Gillian Wearing
Find out more about the project and the sculpture here: http://arealbirminghamfamily.com/
4.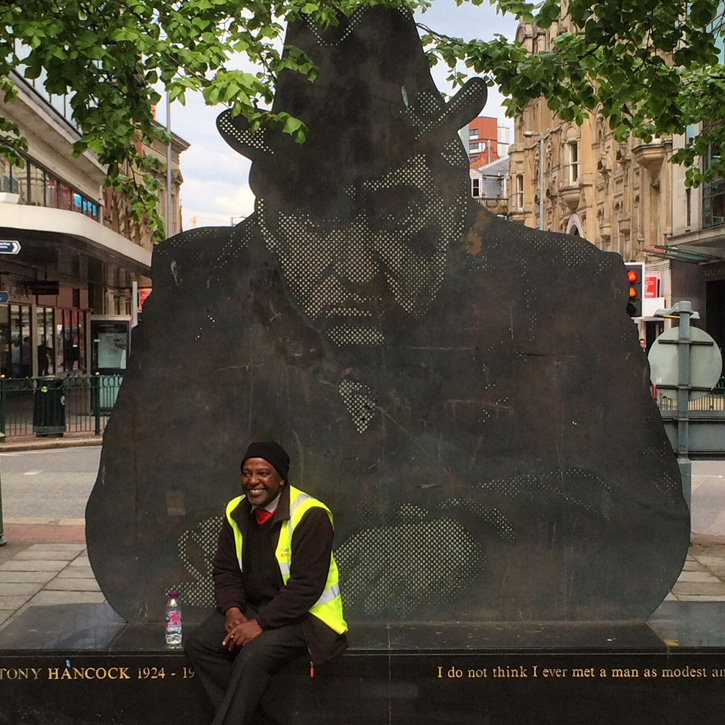 The comedian and actor Tony Hancock was born in the Hall Green area of Birmingham in 1924. He is best known for his BBC series Hancock's Half Hour which ran first on radio from 1954, then on television from 1956. He died in 1968, aged 44.
Bruce Williams' memorial was unveiled by Sir Harry Secombe on 13 May 1996. Originally intended to be placed on New Street, it was temporarily placed on the Corporation Street edge of Old Square, which at that time was opposite a Blood Donor clinic, the subject of Hancock's well-known sketch. The statue was later relocated to the centre of Old Square, where it remains.
3.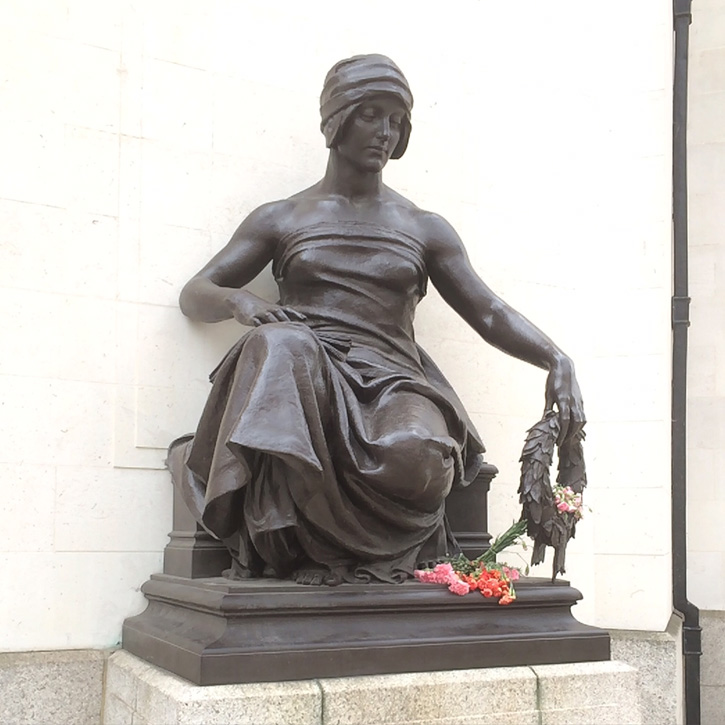 The Hall of Memory is a war memorial commemorating the 12,320 Birmingham citizens who died in the First World War. The building was designed by S. N. Cooke and W. N. Twist, and built between 1923 and 1925 by John Barnsley and Son.
The four statues around the exterior, by local artist Albert Toft, represent the Army, the Navy, the Air Force, and Women's Services. On the day I visited, the Women's Services statue had been 'flower-bombed' by members of the Women's Institute in response to the defacement of the Women's War Memorial in Whitehall on Saturday 9 May 2015, by anti-Tory protestors. Read more about the flower-bombing here: http://www.bbc.co.uk/news/uk-england-32688906
2.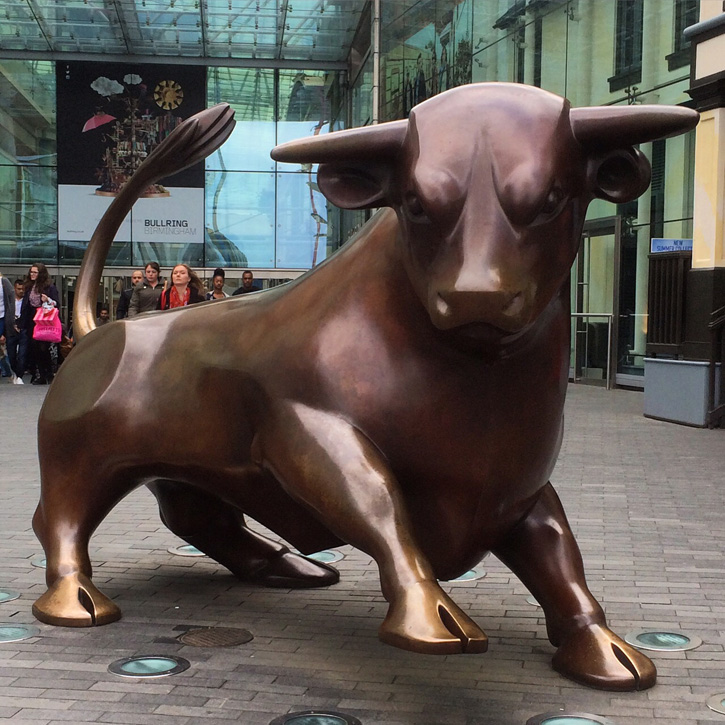 One of the largest bronze animal sculptures in the UK, this 2.2 metre (7ft 3in) tall running, turning bull stands at the main entrance to the Bullring's west building.
The Bull is a popular spot for people to have their picture taken and on the day I visited, I had to wait a few minutes to be able to take a photograph. It's a very tactile sculpture and visitors, especially children, seem keen to touch it and climb all over it. As I waited to take my photo, a mother held her young child up to The Bull's face so he could kiss its nose!
Find out more about the sculpture and how it was made here: http://www.laurencebroderick.co.uk/news2.html
1.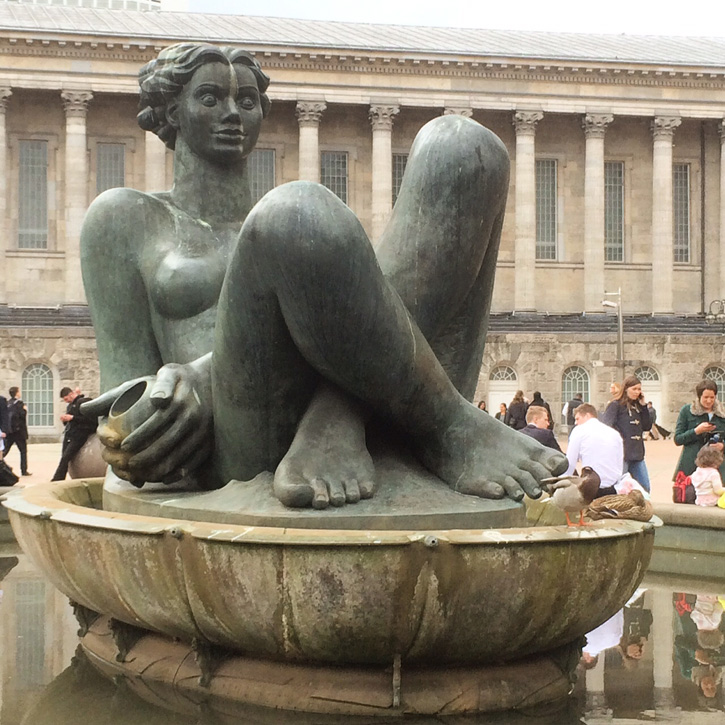 The redevelopment of Victoria Square, from a busy road junction to a pedestrianised, public focal point, was started in 1992 and completed in 1994. An international design competition was held for a central water feature in the square, which was won by Dhruva Mistry. Four sculptures by Mistry are sited around the square: The River, Guardians, Youth and Object [Variations].
The River, a monumental female figure, representing the life force, sits in the upper pool in the square. Nicknamed 'The Floozie in the Jacuzzi', it is also a fountain, one of the largest in Europe, with a flow of 3,000 gallons per minute.
The following words, from the poem 'Burnt Norton' by T. S. Eliot, are engraved in the rim of the upper pool:
'And the pool was filled with water of sunlight,
And the lotos rose, quietly, quietly,
The surface glittered out of heart of light,
And they were behind us, reflected in the pool.
Then a cloud passed, and the pool was empty.'
The water from the upper pool flows into a lower pool, in which is another of Mistry's sculptures, Youth. On either side of the fountain are two large stone sculptures known as the Guardians. On either side of these sculptures are two obelisk-shaped sculptures, Object (Variations), which act as lampstands in the square.
Further information on Birmingham's public sculpture:
Birmingham City Council http://www.birmingham.gov.uk/public-art
The Public Monuments and Sculpture Association has produced two books on Birmingham in their Public Sculpture of Britain series, published by Liverpool University Press:
Public Sculpture of Birmingham by George T. Noszlopy, 1998
Birmingham Sculpture Trails by George T. Noszlopy and Fiona Waterhouse, 2007
Katey Goodwin, Art UK Head of Research & Digitisation and Project Manager for The Sculpture Project