It's the time of year when the trappings of Christmas are everywhere, from holly and mistletoe to high street lights and illuminated trees decorated with baubles. The scents and smells of mulled wine and mince pies are finding their way into our homes as we prepare for the holiday season.
We all have our own ways of getting in the festive mood, but many contemporary Christmas traditions came from the Victorians. In fact, Christmas was hardly celebrated in the early nineteenth century until Queen Victoria and the royal family helped make the holiday extremely popular.
Their love of festivity and giving handmade gifts soon spread holiday cheer across the empire, but in recent years, Christmas has become increasingly commercialised, with people spending more time queuing up for post-holiday sales than enjoying time with family and friends.
This year Watts Gallery – Artists' Village is reclaiming the Victorian spirit of Christmas with our Victorian Christmas Fair on 26th and 27th November: a weekend of festive food, traditional craft making, music, storytelling and artisan shopping. Join us for a weekend inspired by the Victorian Arts and Crafts movement and the traditions of Christmases past.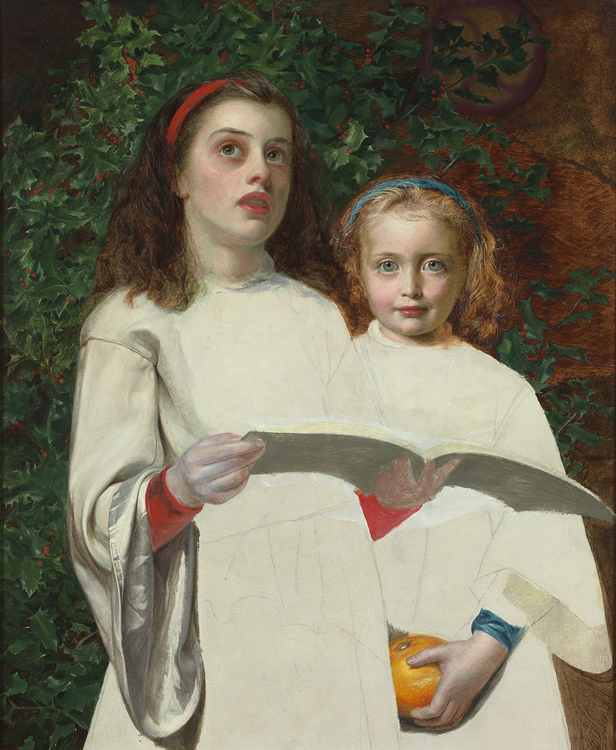 Here are ten ways you can celebrate an authentic Victorian Christmas.
1. Christmas tree
Decorating with evergreen plants such as mistletoe, holly and ivy was a medieval tradition in England, but when Prince Albert brought a Christmas tree to Windsor Castle in 1848 and a London newspaper printed a drawing of the royal family gathered around a decorated tree, these decorations became far more elegant and elaborate.
Drawing on traditions from Albert's childhood in Germany, Victorian Christmas trees were decorated with candles, sweets, fruit, small gifts and handmade paper decorations. Dress your tree in Victorian fashion with handmade paper chains, orange pomanders and paper angels, which you can make at our Victorian Christmas Fair.
2. Christmas decorations
Indoor decorations were mostly handmade, and ivy leaves sewn onto strips of ribbon were the most popular Victorian decoration. Mistletoe balls were commonly hung in the middle of a room or hallway or over a threshold at holiday parties. This practice started in Victorian servants' halls but quickly spread to middle and upper class drawing rooms.
Decorating for Christmas with handmade wreaths was another medieval tradition adopted by the Victorians. Hazel or willow sticks were bound and covered in greenery to make wreaths before being decorated with fresh fruit and pine cones and placed on a home's front door. Make your own willow wreath at the Victorian Christmas Fair.
3. Christmas cards
The illustrator and artist John Calcott Horsley designed the first Christmas card in 1843. These cards showed a family raising a toast alongside scenes of charity. Giving Christmas cards proved so popular that by 1880 over 11.5 million cards were produced.
Initially, Christmas cards were expensive, so children were encouraged to make their own. Be a true Victorian and make your own cards to send to friends and family, or purchase charity Christmas cards designed by women prisoners as part of The Big Issue's project at the Artists' Village shop (£2.99 for five cards, all proceeds go to the Art for All learning programme).
4. Christmas carols
Though Christmas hymns can be traced as far back as the 4th century, the tradition of 'wassailing' – going door-to-door singing popular Christmas songs – comes from the middle ages. The Victorians updated this tradition by putting old words to new tunes and writing new religious and secular carols. Often after the Christmas feast, everyone gathered around the Christmas tree to sing.
If singing door-to-door isn't for you, come and see local choir groups perform Christmas carols at Watts Chapel, Watts Studios and on the lawn at Watts Gallery during the Victorian Christmas Fair.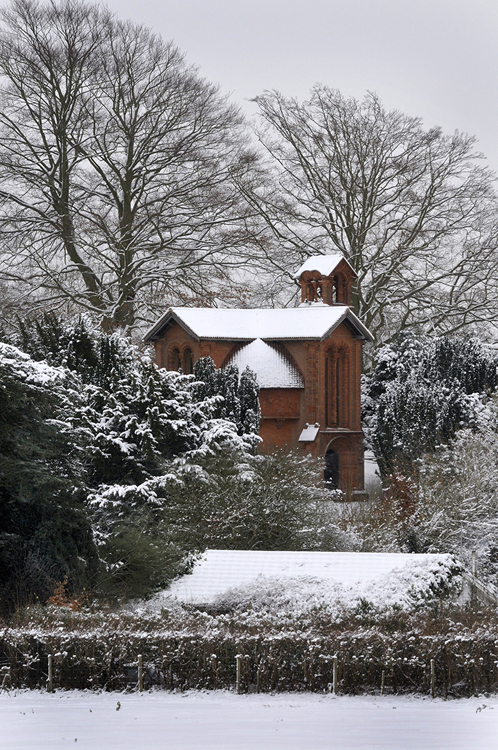 5. Christmas dinner
The Christmas feast was another medieval tradition updated by the Victorians. Holiday feasts of the Middle Ages saw families eating roast beef in northern England or goose in London and the south, but wealthy Victorian families dined on roast turkey. The Queen's Christmas dinner in 1840 included turkey, beef and several royal swans.
Not having a Christmas turkey became a major concern for Victorian families. In 1893 Mary Watts wrote, 'Worries because turkeys did not come! How small a thing may give one trouble and unquiet.' Even if your turkey doesn't arrive in time, you can still celebrate like a Victorian by preparing a family feast for Christmas.
6. Christmas crackers
Christmas crackers – now a holiday essential – were invented by the Victorians. In 1848 the London sweet maker Tom Smith created the first crackers after a visit to Paris where he saw bonbons in sweet shop windows. French sweets were replaced with small gifts, paper hats and love notes and wrapped in a twist of festive paper. Make your own festive marbled wrapping paper at the Victorian Christmas Fair, which the Victorians would have used for wrapping their gifts, and have a go at making Christmas crackers at home.
7. Gift giving and charity
Gift giving was traditionally part of New Year celebrations, but the Victorians used Christmas as an occasion for giving fruit, nuts, sweets and small handmade trinkets to their loved ones. Handmade games, dolls, books and clockwork toys were popular as were apples, oranges and nuts.
Charitable giving during Christmas was also a Victorian concept, with charitable organisations providing Christmas dinners for the impoverished, and newspapers printing Christmas appeals for the poor, sick and elderly. Charles Dickens' A Christmas Carol, published in 1843, presented Christmas as a time for family, goodwill, peace and happiness and encouraged wealthy Victorians to redistribute their wealth by giving money and gifts to the poor.
Make a difference this Christmas by becoming a volunteer or making a charitable donation. The Big Give Christmas Challenge (29th November – 2nd December) is a great place to start, with match funding from philanthropists doubling your donations to charities including Watts Gallery – Artists' Village (wattsgallery.org.uk/christmas-challenge).
8. Father Christmas
Father Christmas was originally part of the English midwinter festival, and he dressed in green as a sign of spring's return. By the 1870s, Father Christmas was starting to resemble the modern Santa Claus with his red suit, reindeer and sleigh, due to the influence of the Dutch who celebrated the arrival of Saint Nicholas or Sinterklaas during the Christmas period.
You can visit Father Christmas at Limnerslease during the Victorian Christmas Fair and hear him tell Victorian stories.
9. Party games
Parlour games and entertainments were a large part of the Victorian Christmas party for both children and adults. Snapdragon was one more adventurous game that adults played, involving a shallow bowl of heated brandy and raisins being set alight before players took it in turns to snatch the raisins out and eat them without burning themselves. Musical chairs proved a safer option for children.
10. Christmas treats
Plum pudding, Christmas cake, mulled wine and sugarplums are all traditional holiday treats that came from the Victorians. Many of these dishes were updated versions of traditional foods, with Christmas cake coming from the more traditional Twelfth Night cakes and plum pudding evolving from seasonal plum porridge.
Mulled wine and wassail punch were modernized from their fourteenth-century recipes, and mince pies – made with mincemeat in Tudor times – evolved into the sultana and raisin delicacy we enjoy today.
Treat your Victorian taste buds to our winter warming menu at The Tea Shop or visit one of our Festive Pop-Ups for mulled wine, mince pies and roasted chestnuts during the Victorian Christmas Fair.
We hope you'll join us as we step back in time to the Victorian period this Christmas. Happy holidays!
Ashley Gerling, Marketing Assistant, Watts Gallery – Artists' Village
The Victorian Christmas Fair runs 10.30am to 4pm on 26th to 27th November 2016. 2 for 1 adult admission, 16 and under free. Free parking. Book online at wattsgallery.digitickets.co.uk.