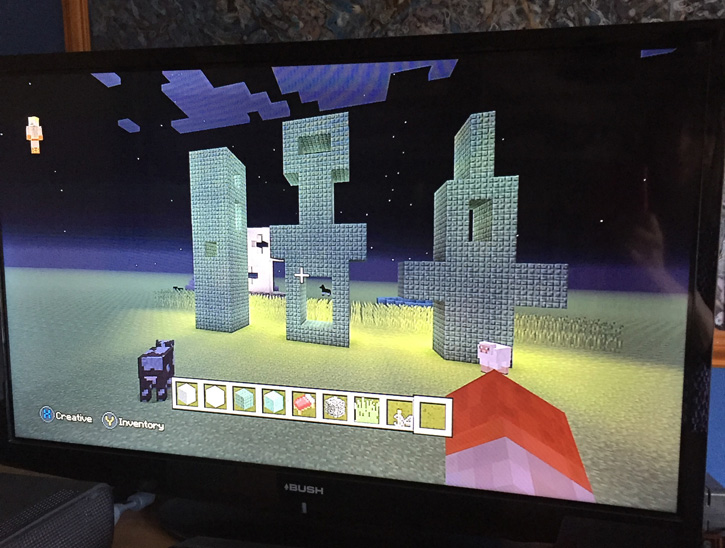 I haven't really taken much notice of Minecraft in the past, as it just seemed to be another computer game which kept my teenage son from interacting with the rest of the family. A few recent museum-based initiatives, however, have sought to use the game as a means to reach young people and engage with their collections in new ways.
Anyone with children will be familiar with Minecraft. This open-world, sandbox computer game is enormously popular with 5 to 16 year olds of both sexes, with over 100 million users having registered since the first full version was released in 2011. Players mine for resources and then use those resources to craft things. There are multiple game-play modes, including: survival mode, where players mine as much as they can before night time (when bad things happen); adventure mode, where users can visit other crafted worlds; and creative mode, which allows users to create landscapes and buildings without being threatened by the monsters at night.
A special version of the game designed specifically for schools, MinecraftEdu, has been developed, as the game has been shown to be a useful tool in teaching STEM subjects, art, history and computer coding. Minecraft is now being made available to every post-primary school in Northern Ireland as part of a project devised by CultureTECH, with funding from the Department of Culture, Arts and Leisure.
A number of museums have started using Minecraft as a tool to engage their audiences. Projects include:
Tate Worlds where Minecraft worlds have been created based on Tate art works;
Museumcraft where users are invited to build the exterior and interior of the British Museum in Minecraft;
Shakescraft, a competition by Shakespeare Birthplace Trust which challenged users to use Minecraft to imagine what Shakespeare's final home may have looked like;
Museum of London Archaeology Challenge Days and Family Festivals, which have included challenges to build the Rose Theatre and the Roman Baths in Minecraft.
Despite it have been available in my home since its launch, I had my first go at Minecraft at the Museum of London in December, as part of a meeting on interacting digitally with family audiences (the meeting was called Digital Families and was organised by Kids in Museums). A workshop on using Minecraft to engage families included a practical session to create the Temple of Mithras, in creative mode, using blueprints provided by the Museum of London. We worked on iPads in groups of three to help promote collaboration, although the youngest member of our group was so much faster than the others that he'd built one end of the temple in the time it took me to put down a few blocks. I meant to take some photos of the workshop activity, but I was so engrossed, by the time I looked up from the iPad everyone else had gone.
Spurred on this first experience of the game, I decided to spend some time during the Christmas break seeing what else I could create. My son is 18 now and doesn't play Minecraft much these days, but he still has copies on his PC and X-Box, and promised to help me. According to him, the PC version is slightly better, but as he'd forgotten his password to his PC Minecraft account, we had to use the X-box.
My idea was to recreate some sculptures in Minecraft creative mode. Due to the nature of the game and its blocky style, I thought that an abstract, blocky sculpture would be a good place to start. I chose Barbara Hepworth's The Family of Man, from Nine Figures on a Hill – Ancestor I, Ancestor II, Parent I. Made in 1970, these three sculptures are on permanent loan from the Fitzwilliam Museum, Cambridge, to Snape Maltings, Suffolk.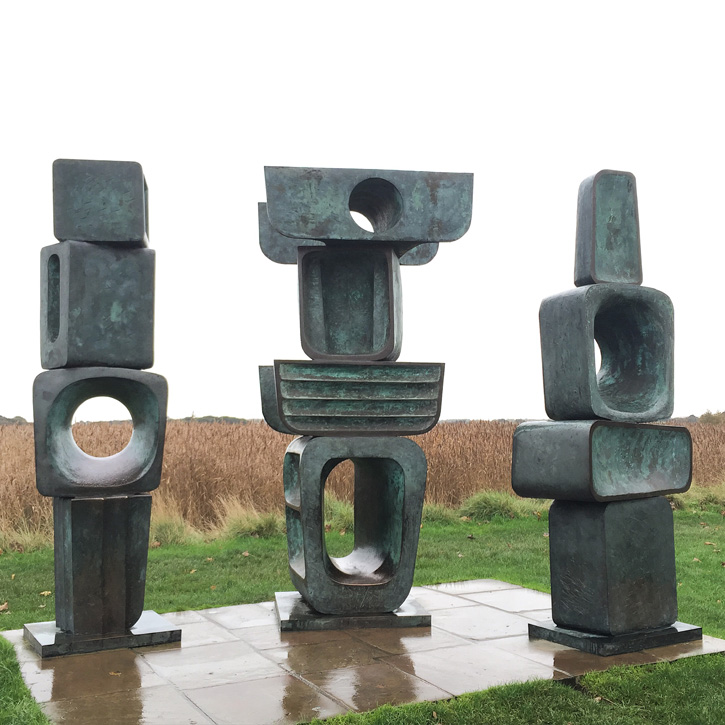 We chose a green block to match the bronze of the Hepworth sculpture. I made a start on the right-hand sculpture, but very quickly had the X-box controller taken off me as I was taking too long to put the blocks in the right place.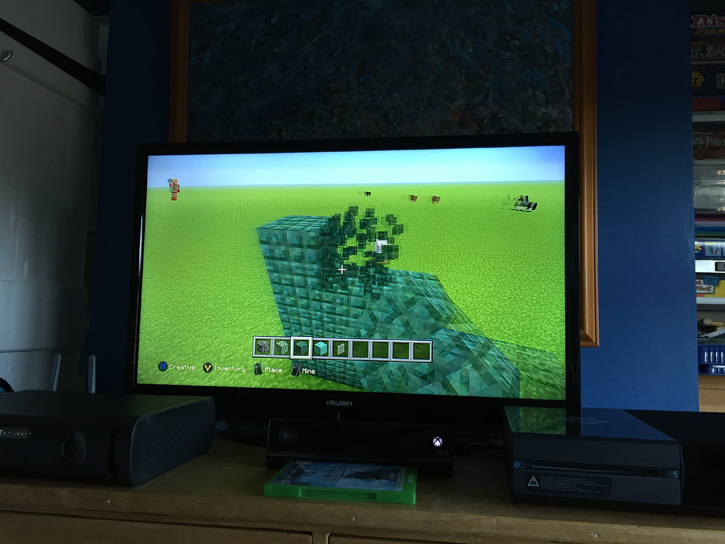 My son took over and progress was much faster. We did work together though, deciding on how many blocks should make up each section of the sculptures and where they should be placed.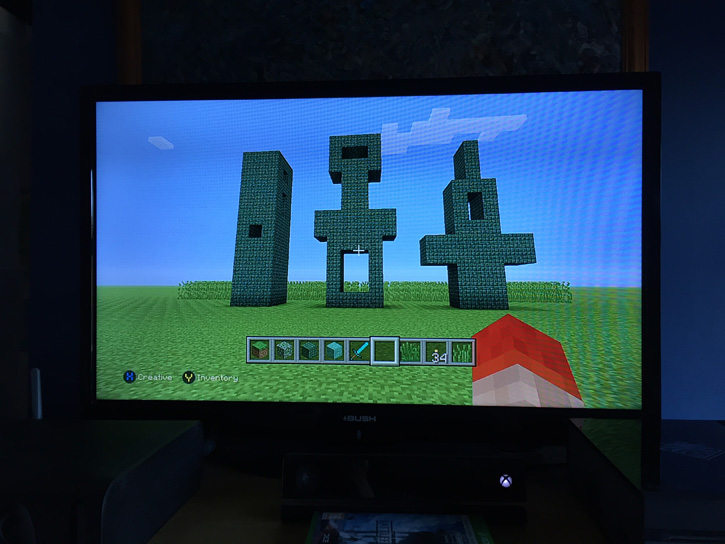 The result wasn't a like-for-like recreation of Hepworth's sculptures, but hopefully it does represent the essence of her work. We also attempted to recreate the Suffolk landscape in which the sculptures are sited. There weren't any rushes in Minecraft, so we had to use long grass.
Having recreated a real sculpture, we had a go at recreating a work and its surrounding landscape depicted in a painting. The oil painting Sculpture in a Landscape by Patrick Caulfield was painted in 1966 and is in the Arts Council Collection. It features a large sculpture, consisting of two white blocks, on a grey plinth in a rocky grey landscape.
We couldn't create circles very well, so used a cross to represent the circular holes in each of the blocks. To represent the grey landscape behind the sculpture, we built up layers of grey blocks, removing the grass and replacing it with granite. We would have built a bigger landscape around the sculpture, but we didn't have enough time. If I do some more on it, I'll post a new photo.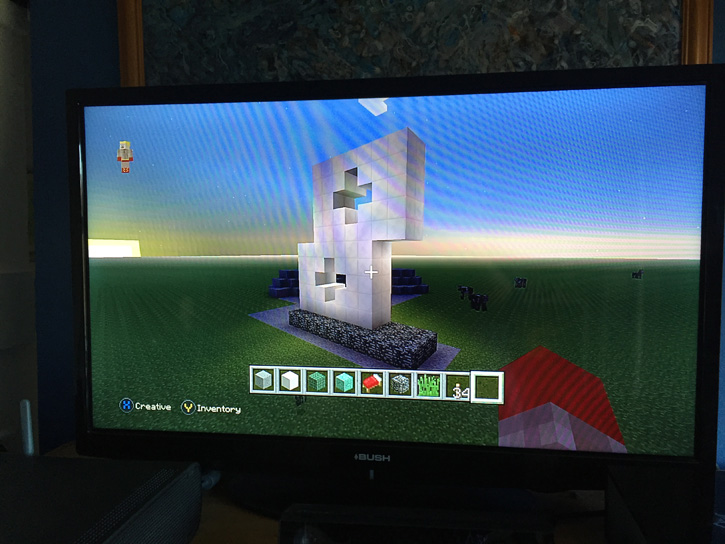 I was pleased with our first attempts at recreating sculptures in Minecraft, as it gave me a few ideas on how it could be used as an activity during the The Sculpture Project. We would probably need some help from more expert Minecrafters though, to develop this into something meaningful and beneficial!
Katey Goodwin, Art UK Head of Research & Digitisation and Project Manager for The Sculpture Project