A past BBC report on Your Paintings (the previous incarnation of Art UK) featured a quote from a member of the public, which has stuck with me from day one of the Art UK project: 'art isn't a regular part of my life – BBC is'. This was the challenge we faced moving away from a BBC-hosted site: how do we make Art UK part of people's 'regular lives'? In terms of content, we knew that our partnership with the BBC would remain and we could still rely on them to bring in traffic at a subject level, but in terms of technology we needed to make sure that the site was as user friendly and enjoyable as possible.
The aim of Art UK has always been to make sure we retain the BBC audience, whilst simultaneously broadening our audience even further. This meant that when carrying out user testing we knew we had to talk to existing Your Paintings users, plus those who had never used Your Paintings before.
We conducted two types of user testing: one in the early stages of design (concept user testing) and one in the early stages of the beta site (usability testing). We wanted to make sure people were happy with the idea and structure of the new site, and later on that they were able to use the site with ease.
Concept user testing
On 7th August 2015 we invited a sample of existing Your Paintings users to the PCF offices to help us concept test Art UK. We found these people by emailing screener questions to our newsletter subscribers. Some were members of Tagger and Art Detective, and others simply used Your Paintings for research or general browsing.
We held three focus groups with seven people in each. The sessions were co-led and designed by Katy Swainston, Project Manager at Keepthinking. At the beginning of each session everyone was shown the template designs on a big screen in our meeting room, and then given a document of statements of which they had to mark true or false. This allowed us to get thoughts from the individuals that were not influenced by the group. Afterwards we chatted and got initial thoughts on messaging that influenced the structure and design. For example the word 'categories' was felt to be too austere, so we came to the conclusion to use the word 'topic'. Also we found that the phrase 'famous artists' was controversial, so this was amended to 'popular artists'. We considered a feature called 'related artists', but it was felt to be too broad and not very useful, therefore the component was dropped.
One of the main requests from collections for the new site was to encourage people to go and visit the works of art, and luckily 78% of those we spoke to in the groups felt that the site was designed with this in mind. Overall it was a thoroughly useful day and helped us to shape the beta version of the site.
City Interaction Lab usability testing
The next stage for us was to test Art UK in a controlled environment. We held two days of usability testing on 3rd and 4th December 2015 at the Interaction Lab at City University. The lab is run by Stuart Scott and primarily allows MSc students at the Centre for Human Computer Interaction Design to gain experience working on commercial projects.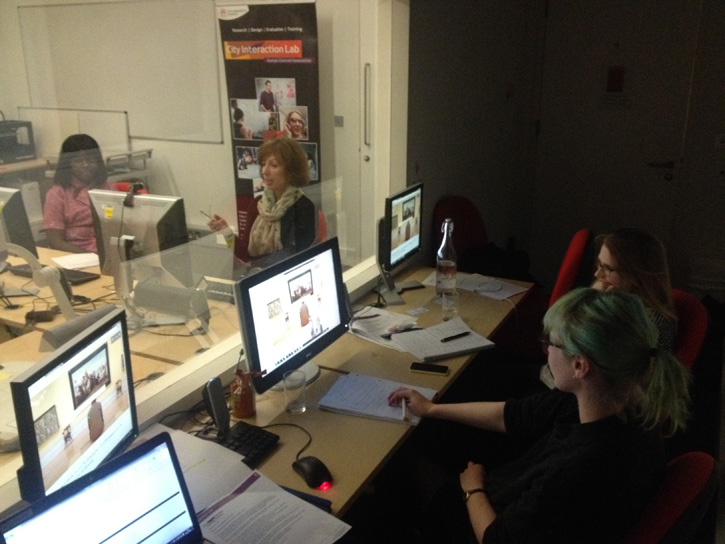 Ten members of the public were invited to test an early version of the website over the course of two days. This time we invited those who were art enthusiasts along with those who had little interest in art and limited knowledge of Your Paintings. We booked the small observation space and the control room, which meant we were able to watch the users through a one-way mirror, watch their facial reactions front-on through a camera, and watch their mouse movements on a linked up screen. It was a very surreal experience but possibly the most fun I've had at work! My colleague, Jade King, also sat in on all of the sessions and we were joined at various points throughout the two days by Keepthinking, our technical consultant, Adrian Cooper, and Director of Art UK, Andy Ellis.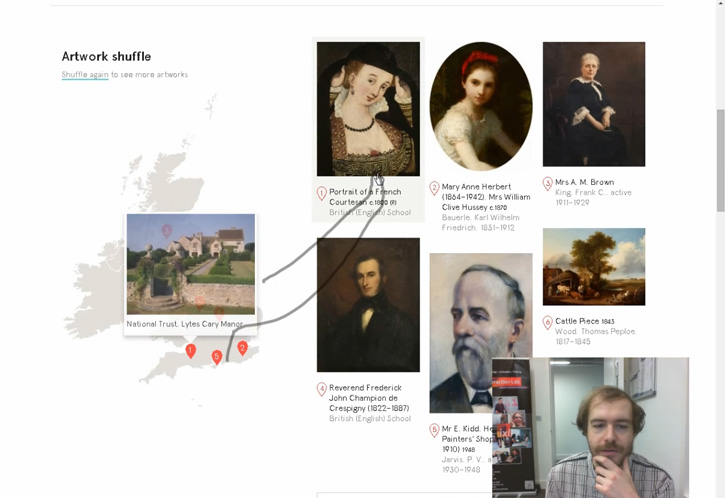 Every person's experience of the site was so different to the next. From a florist who had little experience of using the web to a business analyst who was well versed in web testing, we saw a multitude of behaviours that we could not have possibly predicted, proving how useful it is to conduct usability testing.
We particularly wanted to find out how people understood and interacted with the various ways you are able to search the site. From analysing statistics of Your Paintings we knew that most people ended up on the site via search and therefore did not start their journey on the homepage. We therefore wanted to make sure that users did not feel lost if they started their journey anywhere on the site. This meant some of our users were shown an artist page or artwork page as the first page.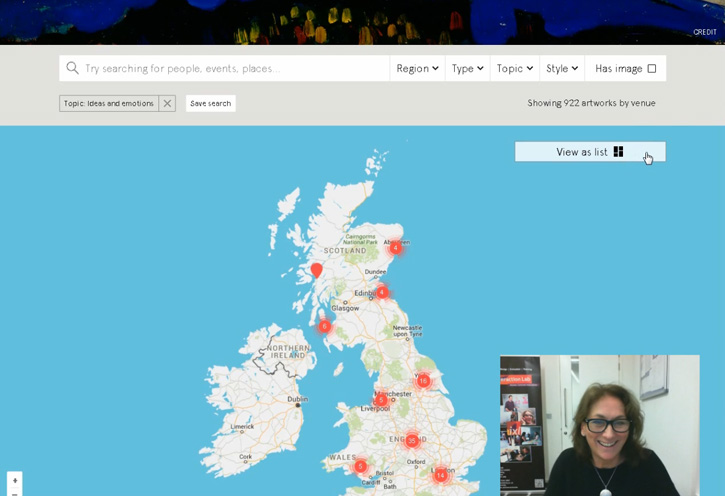 At the end of the two days the team at City University began working on a report and a week later we were handed a 14-page report of suggested changes to the website.
The first paragraph in the report was very positive:
'All 10 participants were overwhelmingly positive about the website and thought they might use it – including those participants who confessed to having little interest in art. There were no severe problems reported.'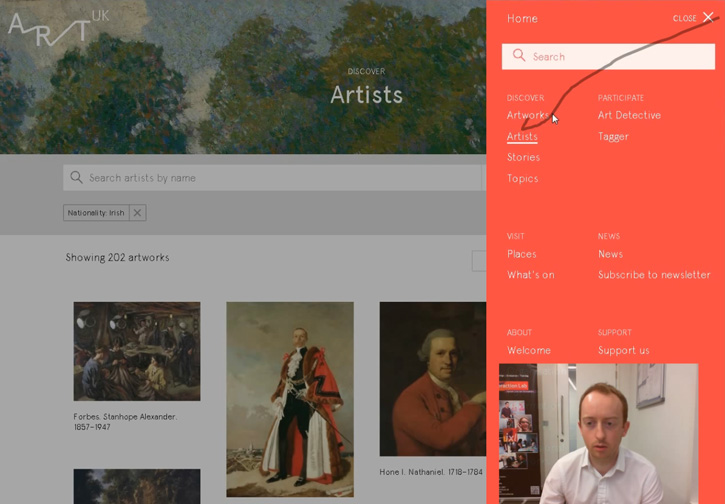 Some examples of things we changed as a result of the report are:
Users preferred to search from homepage because of the autocomplete feature. We have now extended the feature to the artist search.
Users who ended up on the artwork page were confused as to where to go next as there was no menu, simply a cross in the corner that acted like a lightbox feature. We removed this cross and allowed the menu to be visible. Even though the lightbox was a nice design feature, it confused the users.
Some users did not see the menu in the top-right corner because they scrolled down the page too quickly. The menu now moves down the page as you scroll.
We worked with student consultants, James Whittaker and Shermaine Waugh. They were both incredibly professional and their enthusiasm for the website was infectious! Both days ran very smoothly; they even found us a last minute participant when someone had to drop out!
We built this website for the public to explore the public art collection, so if the public couldn't use it we would have failed our mission. If you have any feedback on the functionality of the site, please feel free to email me alice.payne@artuk.org
Alice Payne, Senior Editor and Project Manager on Art UK
Please note: All those who took part were given a free catalogue and given access to a limitless stream of tea and biscuits.