Avoid the traps and focus in closer. What you might find may impress you.
Covent Garden, one of London's busiest hotspots, is not just home to the hustle and bustle of theatre life, but to a huge number of sculptures waiting to be uncovered. Some of Britain's greatest actors, writers and directors are immortalised within the concrete of central London. Some notable names, such as Charlie Chaplin, will lead you through London on an uncommon trail that will make you discover places you never knew existed and have walked past in day-to-day life.
We begin with Agatha Christie. Agatha is particularly easy to miss. A person might bypass this sculpture in the heart of theatreland either because they are late to a play in the West End, or are too excited by the prospect of meeting a fanciful flower girl in Covent Garden. However, this is a treat not to be overlooked. The bust of Christie's head appears in profile within a solid surrounding of bronze, safely nestled from pedestrians. Her smiling face is a warm welcome against the chill. More than eight of Christie's plays have been performed in the West End, with The Mousetrap credited as the longest running play in the world.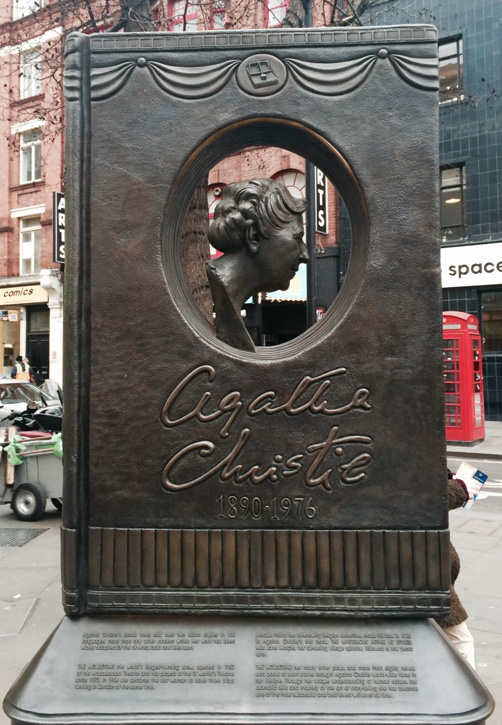 Not a stone's throw away, in the north of Leicester Square, opposite the Leicester Square Theatre, you will find one of the heroes of the golden age of Hollywood: Charlie Chaplin. You will come across him in character, absently mindedley waiting your arrival. He doesn't have a voice, unlike another popular work by John Doubleday, Sherlock Holmes (1999), but it almost appears, like when seen on screen, that he doesn't need one.
Chaplin appears to have a good view of the beginning of Chinatown and stares out to where Wilfred Earnest Lytton once lived, but he has not always been sited there. Previously, he stood in the middle of Leicester Square, resting on a cane. The cane is now gone and you can only presume that it didn't make the journey. Something to note is Chaplin's change in height, as, although never tall in real life, between 1981 and 2011 he gained height physically and commemoratively by being placed in Leicester Square on a plinth. Following the remodelling he was moved without his plinth to Leicester Place.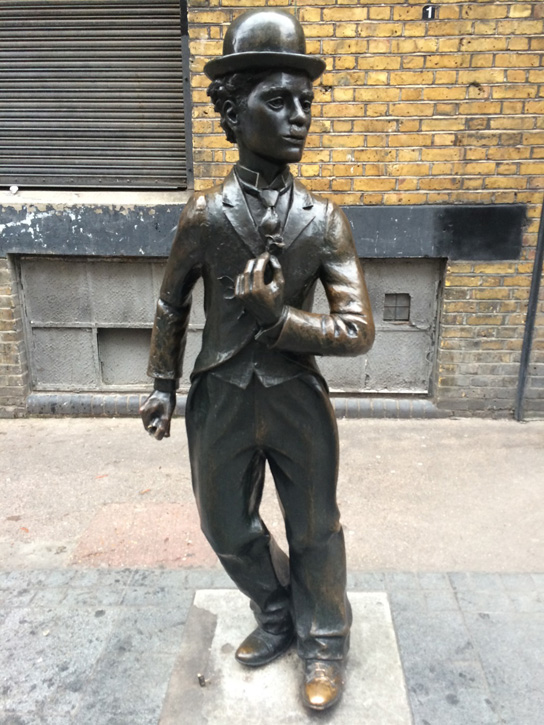 Following the streams of people heading back east is recommended, as between Covent Garden and Bedford Street is a place of perfect serenity: St Paul's Church garden. On my visit some restoration work was being done, but it is still worth a look. In the garden sits Neptune's fountain, a piece fit for the water god himself. Although I was unable to see Neptune, as the area directly behind the photo was cordened off, the back side reveals a 'Baroquism' of a scallop shell that leaves you wondering where an indignant Galatea has been left. St Paul's Church is a stone's throw away from the covers of Covent Garden and gains its fame from being referred to as 'The Actor's Church'. You can easily imagine flows of actors and playwrights en route from tavern to theatre, praying that they really do not break a leg.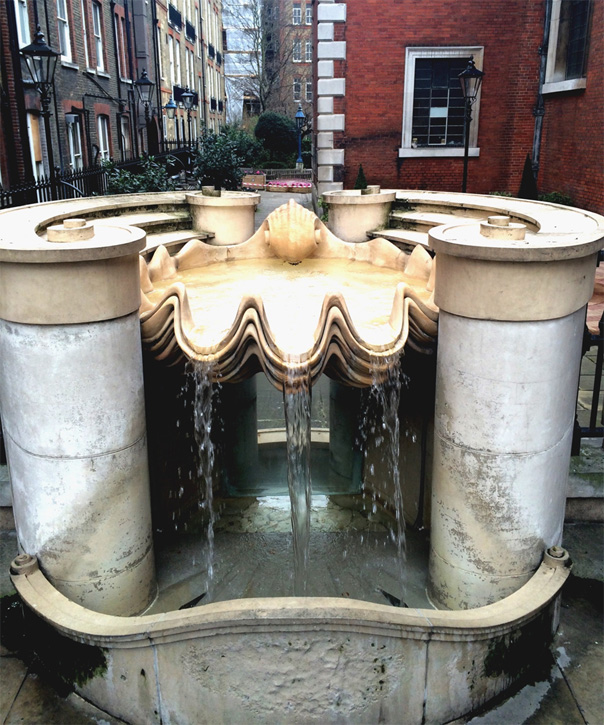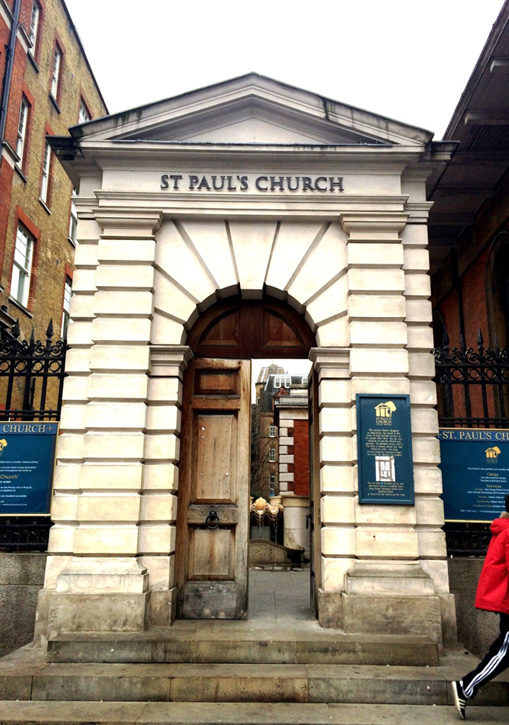 Being in Covent Garden, it would be unthinkable to not think about dance, and, just on the other side of The Royal Opera House, a Young Dancer ties the ribbons of her ballet shoes. The grace and preciosity of her art can be seen in her posture, which Plazzotta captures in his sculpture. She perches half on the stool for moment to retie the ribbons before she leaps back into the rehearsal. The piece seems timeless, evoking every hopeful dancer.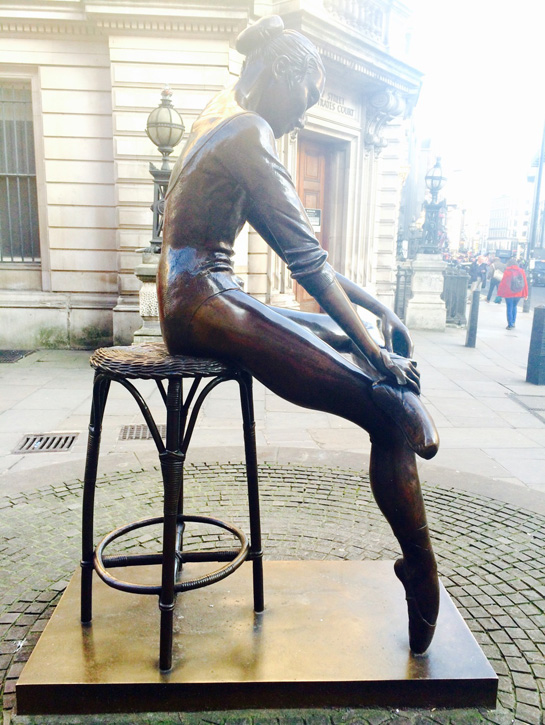 The last sculpture, if you recognise it for what it is, will probably be the most memorable. Found on Adelaide Street, many a passer-by will rest on this piece and not realise that they are actually regaining their strength on a nod to one of Britain's greatest playwrights, Oscar Wilde. Indeed what they are actually sitting on is his coffin, which he seemingly rises out of and attempts to engage you in conversation.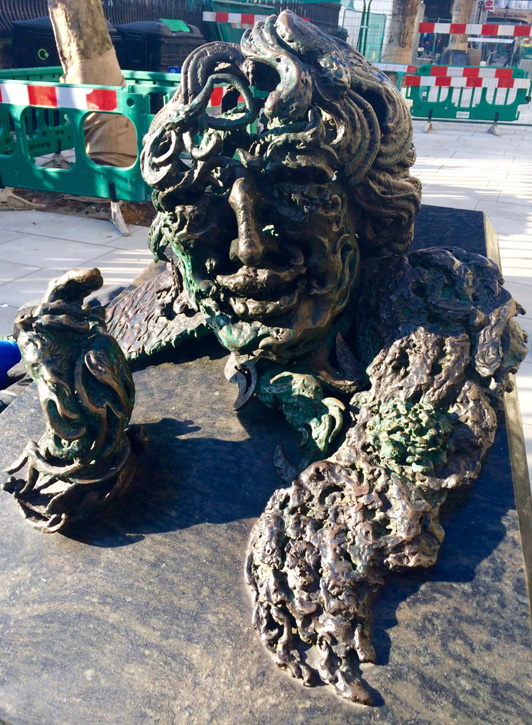 Wilde, who died in 1900 at the age of 45, had been imprisoned for two years and in a way this controversial work feasibly reflects his life. It is far better, however, to look at a sculpture without any previous knowledge or bias of others' opinions, just appreciating the art for the way you see it. Note: at the time of observation the whole of Adelaide Street was being dug up, making it hard to take a photo without any road works. I am sure Oscar would not have minded being submerged in the contemporary.
Susannah Bray, Art UK Volunteer